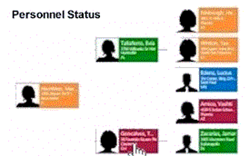 Actionable Visualizations for Learning & Talent Management Programs
Baltimore, MD (PRWEB) November 13, 2015
The latest update to KMx is focused on providing actionable data visualization features. Instead of having to "make do" with the reports and charts provided by competitive solutions, KMx clients can design colorful and graphic visualizations of their learning and talent management program without programming or use of third-party reporting tools. Each of these features provides actionable interfaces to enable work-flows, change management and administration that are data-driven. The technology automatically tailors outputs to the responsibilities and authority of the person accessing the feature.
KMx Dynamic Organization Charts enable administrators to design custom organization charts that display virtually any aspect of your talent management program:

Education, Qualifications and Certifications
Color Coded Assignment Completions/Delinquencies
Color Coded Company, Division, Department Assignments
Open Positions and Color Ranked Candidates
Cameo Pictures
Google Maps ™ Integration Tools enable administrators to create highly customized map presentations of virtually any talent management data with location/address information.
KMx Dynamic Reports enable administrators to create reports and Excel ™ spreadsheets using any combination of data elements in the KMx Learning, Talent and Content Management Systems:

Enables Sorting on any Report Column
Enables Search/Filtering of the Report Output
KMx Dynamic Graphs provide all of the features and capabilities of KMx Dynamic Reports to produce colorful and animated graphs. KMx Dynamic Graphs leverage HTML5 to provide interactivity and animation. KMx Dynamic Graphs types include:

Pie Charts (with animated hover-over slices)
Donut Charts (with animated hover-over slices)
Bar Charts (with animated bar rendering)
Line Charts (with animated line rendering)
Polar Radius Charts
Waterfall Charts
Graph and chart outputs can easily be dragged/copied into MS Word or other desktop applications for use in augmenting reports. All of the above listed features produce outputs that can be delegated by administrators to other administrators, students, instructors and supervisors.
About KMx:
The KMx platform provides fully integrated eLearning content development, learning content management, learning management, performance management, talent management, and virtual classroom technology in one easy to use solution. KMx is available as an installed software application or as a hosted service. The KMx user interface is available with language packs to provide for localization and multilingual distribution. Please visit http://www.kmsi.com to learn more.
About KMSI:
Knowledge Management Solutions, Inc. is a leading provider of innovative learning, performance and talent management solutions supporting millions of end-users at Fortune 2000 companies, associations and government agencies. KMSI's clients include many of the largest companies in the world, including retail chains, pharmaceuticals, manufacturers, technology companies, utilities, software companies, universities, insurance firms and financial institutions. Please visit http://www.kmsi.com to learn more.