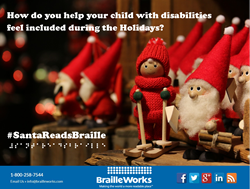 Sometimes it takes more than seeing to believe.
Seffner, FL (PRWEB) November 13, 2015
For Immediate Release: November 13, 2015
Braille Works is helping Santa reach children who are blind. Braille Works, a national leader in the production of accessible documents is bringing Christmas cheer to children who are blind by sending them a braille letter from Santa.
From November 13, 2015 until December 18, 2015 Braille Works will accept requests from parents and caregivers of children who are blind, to receive a letter from Santa. You can request a Braille letter from Santa by visiting the Santa Reads Braille webpage and submitting a form.
Braille Works co-founders Joyce and Lou Fioritto believe that Christmas is a time of gratitude and a time to celebrate the birth of Christ. They also understand the fun side of Christmas. Santa and his elves, flying reindeer, stockings hung by the chimney and a host of other traditions. These are wondrous things that bring smiles and laughter to children around the world. In fulfilling our mission toward "Making the World a More Readable Place", we've come up with a way to bring a 'Letter from Santa' to children who read Braille.
It's our desire to bring a little more of that Christmas wonder to children and give them an opportunity to hear from Santa. At the same time, letting them know that Santa reads Braille is a great way to encourage them to develop their Braille reading skills.
Braille literacy has been defined by congress as the ability to read, an important part of a child's education and development for them to become an independent adult. This is a fun way to help a child develop their Braille literacy, and bring them a bit of joy this Christmas. Braille Works supports programs that promote Braille literacy and this Christmas they are helping Santa.
Contact Information: Braille Works | 941 Darby Lake St. Seffner, FL 33584 | 800.258.7544
Glen Schubert, glen@brailleworks.com
About: Founded in 1994, Braille Works Int. Inc., is the nations leading provider of alternative format documents in Braille, Large Print, Audio and Accessible PDF. We provide bank statements and notices; healthcare documents; restaurant menus and more to Federal Government Agencies, National Banking Institutions, National Restaurant Chains and more. For more information, please contact us at 800-258-7544; info@brailleworks.com