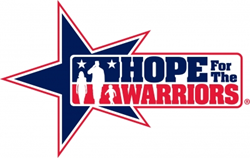 Houston, TX (PRWEB) November 13, 2015
Hope For The Warriors® was pleased to partner with local community organizations to assemble packages for local military caregivers during National Caregiver Month. These packages are one of the many initiatives offered to caregivers during the month of November by Hope For The Warriors®, a national nonprofit dedicated to restoring a sense of self, restoring the family unit, and restoring hope for service members and military families.
To give back to these caregivers that go above and beyond, Hope For The Warriors® joined forces with the Community Relations Team at The Woodlands Chamber of Commerce and Shell Pipeline Company's Military Network to create ten Baskets of Hope. Ten caregivers that devote so much of their heart and soul to caring for their loved ones were selected by social workers at the Conroe VA Outpatient Clinic in Conroe, TX. With help from local companies and members of the community, we will fulfill and deliver these Baskets of Hope the first two weeks of November.
"The amount of support we received to create these baskets made this project very special--not only for Hope For The Warriors® but also to the caregivers receiving baskets," said Chrystal Keilers, Community Development Coordinator for Hope For The Warriors®. "The caregivers receiving Baskets of Hope were selected because of their tremendous and impactful role serving our country's veterans."
Items in the baskets include audiobooks on wellbeing and self-empowerment, handmade pillow cases, makeup, hair products, toiletry bags, cookbooks written by military family members, aroma therapy products, sunglasses, and gift certificates for massages, house cleaning services, restaurants and retail stores.
The United States Veterans Administration recognizes the theme of November as the month of National Family Caregivers. Military caregivers are an essential part of our nation's ability to care for returning wounded warriors. Far too often, their own needs are neglected. The RAND Corporation and the Elizabeth Dole Foundation collaborated on the first, exploratory phase of a larger research effort regarding caregivers and assessed their needs and how their needs are and are not being met.
For more information on Hope For The Warriors®, please visit http://www.hopeforthewarriors.org.
###
Hope For The Warriors® Mission Statement
We believe those touched by military service can succeed at home by restoring their sense of self, family, and hope. Nationally, Hope For The Warriors® provides comprehensive support programs for service members, veterans, and military families that are focused on transition, health and wellness, peer engagement, and connections to community resources.
Hope For The Warriors® has earned a Four-Star Rating from Charity Navigator (http://www.charitynavigator.org) for four consecutive years. Charity Navigator is an independent organization that evaluates fiscal responsibility and accountability of nonprofits.
Hope For The Warriors® (Federal Tax ID 20-5182295) is a 501(c)(3) tax-exempt charity as defined in sections 509(A)(1) and 170(B)(1)(A)(VI) of the Internal Revenue Code. Combined Federal Campaign, CFC #27800.