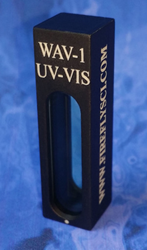 Brooklyn, NY (PRWEB) November 13, 2015
FireflySci is an underdog in the cuvette manufacturing industry. Going up against manufacturing giants who have been making cuvettes for a decades, FFS keeps coming back with massive new innovations to help them carve out a name for themselves. Their latest product release is a technological improvement in spectrophotometer calibration and will hit the other calibration manufacturers with a tough right hook.
NIST SRM 2034 is a benchmark wavelength calibration standard for many labs around the globe. This liquid-based standard worked well for labs who wanted to test the wavelength accuracy of their spectrophotometers in the UV/VIS range. The brutal reality is that these holmium standards do not last over time and are constantly degrading. What this means for people is that they have to fork over tons of cash to maintain these spectrophotometer calibration standards.
FireflySci's engineers have cracked the code and designed a holmium oxide filter that is made from a solid holmium glass material. This revolutionary new wavelength calibration standard has solved some serious problems for people who use spectrophotometers. The new holmium glass material gives people the freedom of never having to recalibration the holmium oxide filter.
Since hidden recalibration fees are such a big drain on researchers' wallets, the engineers at FireflySci have made sure that these new NIST traceable wavelength filters never require recalibration. This saves a laboratory thousands of dollars every single year. The holmium glass is coated with an anti-aging coating that locks in the properties of the glass.
FFS's holmium oxide filter or WAV-1 UV/VIS, is housed inside a well-protected black aluminum housing. The black housing helps keep stray light away from the calibration standard and the aluminum material surrounds the holmium glass giving it extra strength and durability. The housing is labeled with the serial number and the part number so there is never any confusion about the identification of the standard.
The WAV-1 UV/VIS filter comes with FireflySci's Lifetime Warranty. This warranty gives an amazing list of benefits and ensures that there are no risks when buying this holmium oxide filter from FFS. The Lifetime Warranty covers any type of occurrences that could throw the holmium glass out of specification.
With the yearly savings and the Lifetime Warranty, the manufacturing team at FireflySci is gearing up to pump out a massive amount of these holmium oxide filters in 2016. For people looking for a stable, long term wavelength accuracy calibration filters they should visit the FireflySci website right away.
For more information visit http://www.fireflysci.com.