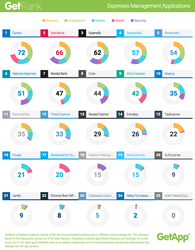 Employees should be able to record expense receipts in order to save time and keep things organized while on-the-go.
(PRWEB) November 14, 2015
The largest marketplace for cloud-based business apps, GetApp, has released its Q3 ranking of the top expense management solutions. Concur took the crown with a score of 72, while Xpenditure and Expensify trailed with scores of 66 and 62 to take second and third place, respectively.
Five unique points were used in GetRank: user reviews, security, mobile app compatibility, social media presence, and integrations. GetRank gives businesses a first-glance look at some of the top expense management applications so that they can see what's available in the market.
Calculations for GetRank are based on information collected from GetApp and other third-party sources. Social media data is pulled from Twitter and Facebook, while mobile accessibility is taken from Google Play and the Apple App Store. The security survey, which is based on the Cloud Security Alliance's self-assessment form, is a unique data point for GetApp, and gives useful information about an app's security details. Finally, user reviews and integrations are compiled using data from GetApp.
To complement and further explain the ranking is a report on trends in expense management, with contributions from business technology journalist Sholto MacPherson. As MacPherson notes, expense management apps have benefited from the rise of smartphones.
He says employees should be able to photograph and record expense receipts in order to save time and keep things organized while on-the-go. "An expense management app like Xpenditure, which reconciles expenses and credit card statements with a photo of the statement, has proven the usefulness of mobile apps for real-time accounting," MacPherson says.
You can check out the complete GetRank Report, Accounting in the Cloud: Key Trends for 2015 on GetApp, where you can also find the Q3 ranking for Expense Management software.
More about GetApp: GetApp, a Gartner company, is the leading premium business app discovery platform on the web. Headquartered in Barcelona (Spain), GetApp serves as a platform for user-generated and editorial reviews of software and apps for businesses.