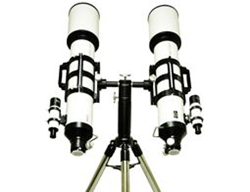 Tarpon Springs, Florida, 11-16-15 (PRWEB) November 16, 2015
Dr .William G. Gaines, President and Chief Operating Officer of Thunder Energies Corporation (TEC) (http://www.thunder-energies.com), a company publicly traded OTCQB with stock symbol TNRG (http://www.sec.gov/cgi-bin/browse-edgar?company=thunder+energies&owner=exclude&action=getcompany) announces that Dr. Ruggero M. Santilli, Chief Scientist, presented the first public viewing of the revolutionary Santilli Telescope with concave lenses to members and guests of the St. Petersburg Astronomy Club at the Pinellas Science Center.
Dr. Santilli was introduced to the audience by Kyle Brinkman, President of the Club, followed by a 45 minute presentation from Dr. Santilli that was entitled "The Mystery of Antimatter." By using a language understandable to the general public, Dr. Santilli outlined his fifty years of research toward the detection of antimatter galaxies, antimatter asteroids, and antimatter cosmic rays via the use of the Santilli Telescope, the first telescope in history with a concave lens, in pair with a traditional Galileo Telescope with convex lens (http://www.world-lecture-series.org/level-ix).
Dr. Santilli concluded his talk by showing a series of night photos recently taken of numerous anomalous images obtained using his telescope with concave lenses in the Tampa area. Following a strong round of applause, Dr. Santilli proceeded to open the floor to general questions and discussion. Included in the audience of more than 70 persons were representatives from local academia and the media. Santilli Telescopes were displayed that ranged from 50mm to 150mm
After a short break, the audience was treated to a second presentation by Kyle Brinkman, club President. Brinkman showed a series of photos that he had taken using the Santilli Telescope earlier in September. Brinkman's photos, like Dr. Santilli's, also revealed an anomalous image that could not be explained. Dr. Santilli and Brinkman agreed that further testing was needed in order to get a better understanding of these phenomena.
Afterward Dr. Santilli was quoted as saying, "I was extremely pleased with the outcome of the first public presentation of our telescope. Judging from the discussion, I think the audience enjoyed it almost as much as I did!" Dr. Santilli added, "The thrill of discovery has always been the fuel that drives astronomers, and with our telescopes, that thrill may now be shared by many due to this telescope's unique design." (http://thunder-energies.com/index.php/ct-menu-item-18/11-articles/17-article-8)
Forward Looking Statements
Certain statements in this news release may contain forward-looking information within the meaning of Rule 175 under the Securities Act of 1933 and Rule 3b-6 under the Securities Exchange Act of 1934, and are subject to the safe harbor created by those rules. All statements, other than statements of fact, included in this release, including, without limitation, statements regarding potential future plans and objectives of the company, are forward-looking statements that involve risks and uncertainties. There can be no assurance that such statements will prove to be accurate and actual results and future events could differ materially from those anticipated in such statements. Technical complications, which may arise, could prevent the prompt implementation of any strategically significant plan(s) outlined above. The Company undertakes no duty to revise or update any forward-looking statements to reflect events or circumstances after the date of this release.
Dr .William G. Gaines
President and Chief Operating Officer
Thunder Energies Corporation