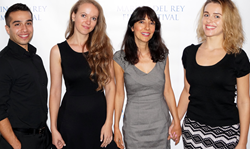 Chronic pain is a silent yet devastating public health threat for people of all ages, and especially for vulnerable populations such as older adults.
Los Angeles, California (PRWEB) November 16, 2015
The social impact feature documentary "Understanding Pain in Older Age" by Dr. Luciana Lagana, an award-winning screenwriter/director/filmmaker and Professor of Psychology at California State University, Northridge (CSUN), is starting to fare well on the 2015-2016 film festival circuit. This film, her first feature, has been awarded the Grand Prize for Best Documentary and a $1,000 Chapman/Leonard studio equipment rental package at the 2015 Marina del Rey Film Festival.
From the IMDb website: This thought-provoking feature documentary will make you think twice before assuming that older adults who complain about pain are doing it just to get attention. Approximately 100 million American adults report living in chronic pain: this number is higher than the combined total number of individuals living with cancer, diabetes, and heart disease. Yet, such an important public health concern is not usually well-addressed, especially with older adults. This movie gives us a way to go through the pain of older age vicariously as we view footage collected by young people on older adults who cope with pain on a daily basis, with or without the use of medications. Additionally, Dr. Luciana interviews pain experts and practitioners. Revealing footage with these professionals suggests controversial pain management strategies. For instance, the safest bet for an individual in pain could be to consult a veterinarian, as stated by a medical doctor. Dr. Luciana's attentive questioning of experts on why we are often unable to successfully manage or at least minimize pain in older age is complemented by her humorous interviewing style.
"It is a great honor to win this award. With my assistant director, CSUN Presidential Scholar Larisa Gavrilova - the lab coordinator of my NIH-funded Adult Behavioral Medicine Laboratory, we have been working hard on this movie for over a year. This project is partially funded by the CSUN Presidential Scholarship. Larisa is a stellar CSUN student who is currently applying to Ph.D. programs to become a scientific researcher and professor. The multiple recognitions of her academic achievements at CSUN include being admitted into the 2014 University Honors Program, as well as being selected as the 2014 University Scholar and, most impressively, as the 2015 Presidential Scholar. This is a highly competitive CSUN program and possibly the most prestigious student award on campus. She is very dedicated to making this film as strong as possible, and is preparing to test experimentally its ageism-reduction effectiveness as part of her undergraduate research thesis," shared Dr. Luciana.
As a very ambitious junior scholar, Larisa shows an incredible amount of dedication to research. "I am very committed to becoming published in peer-reviewed academic journals. Under the mentorship of Dr. Lagana, I am in the process of finalizing a manuscript containing a literature review based on the introductory part of my undergraduate thesis. The focus of the experimental research currently in progress is to test the effects of viewing this social impact documentary on young adults. In the related literature review, we define what ageism is, review studies on its negative consequences on older adults' lives, summarize theories of ageism that have shed light on factors that can cause negative attitudes towards older populations, and review interventions that have been designed to decrease ageism. Another research focus of ours is women's health. In this regard, we are working on a second manuscript describing an empirical study on potential psychological predictors of young women's sexual functioning, in particular depression, anxiety, and sexual self-efficacy," added Larisa.
"Understanding Pain in Older Age" is currently being revised by adding some footage from additional pain experts and by polishing its technical quality. "Putting together this movie could have not been done without our very dedicated team of editors and other artists, most of whom are trained at CSUN in the Mike Curb College of Arts, Media, and Communication. I am very grateful to have such a strong filmmaking team. I also wish to thank the numerous pain experts I interviewed for this movie, as well as my gerontology students who interviewed older individuals living in pain. Finally, I would like to recognize the contribution of the older adults who shared their stories of pain and resilience with us and with the public. Their testimonials are touching, and I hope that their efforts to help clarify what living with pain is like and to stimulate interest in finding ways to reduce the impact of pain in older age will not be in vain. Chronic pain is a silent yet devastating public health threat for people of all ages, and especially for vulnerable populations such as older adults," concluded Dr. Luciana.
Dr. Luciana is focused on making a positive impact on important social issues that need attention in the media. In addition to working on this movie and her multiple academic tasks, she is currently polishing her other two social impact feature documentaries: "Aging and Falling," which is based on her 2014 multiple award-winning show on how to help older adults prevent or at least minimize their risk of falling and its multiple negative consequences, and "LGBT United" that targets discrimination and aggression against sexual minorities.
Written by Stefanie Friesen
Luciana Lagana is a caring clinical and experimental psychologist. She is also an established professor of psychology, gerontology, sexuality, and women's health at CSUN, where she teaches classes and mentors many undergraduate and graduate students. Additionally, since 2002, she has been conducting government-funded research on ethnically diverse, primarily low-income older women's physical, psychological, social, and sexual health. Concerning her artistic pursuits, since 2006, she has been studying acting, TV hosting, and filmmaking in Los Angeles. She is an award-winning actor/screenwriter/director with 44 IMDb credits for acting in many independent movies, web series, and TV pilots. She also wrote, hosted, and directed the award-winning web series "Intimate Temp Agency," as well as "Dr. Luciana Show – Aging and Falling," the winner of many film festival awards, including best educational show at the 2015 Houston Film Festival.