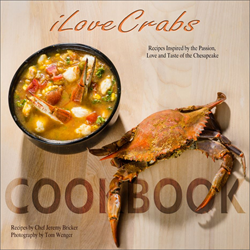 We are extremely excited to launch our cookbook in time for the holidays as I'm confident it will make a very special gift for any crab lover.
Harrisburg, PA (PRWEB) November 19, 2015
The book was inspired by the passion, love and taste of the Chesapeake Bay area and celebrates the undeniable desire and traditions of eating and sharing the blue crab.
For centuries, Maryland has been synonymous with blue crabs and the wonderful way they bring family and friends together. A well-recognized and proud symbol across the state, images of the Maryland Blue Crab are present on signs, license plates, t-shirts and just about anywhere else you can envision.
Filled with over 60 carefully crafted recipes along with 70+ mouth-watering and colorful photographs you can almost taste, the cookbook includes appetizers and everything from soups to main course meals that let's anyone learn to prepare and enjoy Blue Crabs and other Seafood in a variety of ways.
Jeremy Bricker, Executive Chef at Harbour House, is sole creator of the extensive recipe collection you will discover inside and has many fond memories of his own growing up near the Chesapeake Bay. "I vividly remember my first crab feast and crackin' one open as I sat at a table covered in dozens of freshly steamed crabs surrounded by family and friends." states Bricker. His hope is that readers will enjoy preparing and sharing the recipes with family and friends to make their own special memories.
Accompanying each recipe is an eye catching photo taken just after preparation when the savory dishes were ready to eat. Tom Wenger of Tom Wenger Photography took all the fabulous food shots and also is responsible for the cover and book design.
"Coming up with the name for the book was simple, if you ask a Marylander or anyone that has spent significant time on the eastern shore there answer is undoubtedly, iLoveCrabs." States Curt Engle, president and owner of Harbour House Crabs. "We are extremely excited to launch our cookbook in time for the holidays as I'm confident it will make a very special gift for any crab lover."
The theme of the book features the Maryland blue crab, where they not only show how to properly season and steam but also how to eat to get the most out of this Candy of the Chesapeake. Readers are sure to love the many flavorful recipes where the crab is the star of the show including Jumbo Lump Crab Cakes, Baked Blue Crab Dip, Acorn Squash and Crab Chowder, She Crab Soup and Dutch Oven Crabby Mac and Cheese just to name a few.
There is also a wide variety of other delicious creations utilizing popular seafood like soft shell crabs, shrimp, snow crab, clams, oysters and lobster. For those wanting something sweet, Bricker has even included a handful of his favorite dessert recipes including Grasshopper Pie, Black Raspberry Cobbler, Fresh Mint Ice Cream and more.
The iLoveCrabs Cookbook is currently available on Amazon or at iLoveCrabs.com, the Harbour House Crabs company website, where you can order the book by itself or select the Ultimate Crab Lovers Gift Set which also includes an assortment of additional crabby items like pub glasses, seasoning and mallets. Also, wholesale pricing is available for book stores, gift shops and other retailers who wish to carry the book.