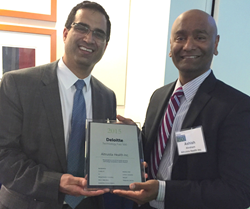 Reston, VA (PRWEB) November 17, 2015
Altruista Health, Inc., an innovative provider of population health management technology solutions for health plans and health care providers, announced today that it has been ranked number 209 on Deloitte's Technology Fast 500™, a ranking of the 500 fastest growing technology, media, telecommunications, life sciences and energy tech companies in North America. Altruista Health earned its ranking by growing 356% during the past year.
Altruista Health CEO Ashish Kachru attributes the company's growth to its leading-edge medical management and care coordination platform, as well as the dedicated team behind it.
"At Altruista Health, our vision is to deliver technology that connects the entire care community – including health plans, providers, support services, caregivers and consumers – to achieve better health outcomes," said Kachru. "Thousands of caring clinicians use Altruista Health solutions each day to accelerate healthcare quality, efficiency and accessibility for millions of people. We are grateful for the trust they place in us. Our ranking on Deloitte's 2015 Technology Fast 500 is a testament to the talented and dedicated Altruista Health team that makes it happen."
Altruista Health delivers GuidingCare™, a web-based medical management platform that helps healthcare organizations address the complex care and support needs of Medicaid, Medicare and other medically vulnerable populations. The GuidingCare system includes several integrated modules that consolidate key population health management functions, including predictive risk modeling, gaps-in-care analytics, care management, disease management, utilization management, physician/provider coordination, member/caregiver engagement and more. All GuidingCare modules provide role-provisioned access to a shared electronic care record that integrates demographic, encounter and pharmacy data as well as up-to-date care planning and coordination details for each member.
"Amid a fierce business climate, there seems to be no shortage of new and established companies that are unlocking a seemingly unlimited potential for growth and advancement through technology's continued disruption and proliferation across industries," said Sandra Shirai, principal, Deloitte Consulting LLP and U.S. technology, media and telecommunications leader. "It is inspiring to witness the innovative ways that companies are incorporating emerging technologies for business gains, be it cognitive computing, or the Internet of Things. We congratulate all those ranked on this year's Fast 500 and look forward to seeing their continued growth into 2016."
"Through the efforts and utilization of new and emerging technologies from these companies, we are witnessing greater business demands from across almost all industries," added Jim Atwell, national managing partner of the emerging company practice, Deloitte & Touche LLP. "We look forward to the opportunity to serve these companies as they strive to grow to the next level – be it towards introducing new solutions or entering new markets – and with it make important and long lasting impressions on the technology market as a whole."
About Deloitte's 2015 Technology Fast 500™
Deloitte's Technology Fast 500 provides a ranking of the fastest growing technology, media, telecommunications, life sciences and energy tech companies – both public and private – in North America. Technology Fast 500 award winners are selected based on percentage fiscal year revenue growth from 2011 to 2014.
In order to be eligible for Technology Fast 500 recognition, companies must own proprietary intellectual property or technology that is sold to customers in products that contribute to a majority of the company's operating revenues. Companies must have base-year operating revenues of at least $50,000 USD or CD, and current-year operating revenues of at least $5 million USD or CD. Additionally, companies must be in business for a minimum of four years and be headquartered within North America.
About Altruista Health
Headquartered in the Washington D.C. area, Altruista Health is an innovative provider of care management technology solutions that address the complex care and support needs of Medicaid, long-term care and other special needs populations. The company has rapidly become an industry leader; the Gartner Group has identified Altruista Health as one of the fastest growing care management technology companies in the government sector. More than 33 organizations operating across 17 states use our solutions each day to streamline clinical and administrative processes, improve patient outcomes and reduce avoidable healthcare costs. For more information, visit http://www.altruistahealth.com