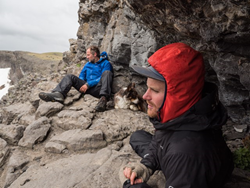 Riis, a wildlife photojournalist, and Middleton, a research scientist at Yale, have traveled 1,600 miles by foot, horse, and mule...
Cody, Wyoming (PRWEB) November 17, 2015
In 2013, the Buffalo Bill Center of the West's Draper Natural History Museum—along with its partners, the University of Wyoming Biodiversity Institute and the Prince Albert II of Monaco Foundation-USA—presented its $100,000 Camp Monaco Prize for Yellowstone area research to Joe Riis and Arthur Middleton for their elk migration project. Today, because of their work, National Geographic has named them "Adventurers of the Year."
According to National Geographic, the organization recognizes Riis and Middleton "for this [elk migration project], and earlier work each of them has done independently in the GYE, the National Geographic Adventurer of the Year award celebrates their achievements advancing the science, public understanding, and conservation of iconic migratory wildlife species in and around the country's first national park."
Riis, a wildlife photojournalist, and Middleton, a research scientist at Yale, have traveled 1,600 miles by foot, horse, and mule on trails of migratory elk in northwest Wyoming. They've spent months deep in the backcountry, come face to face with grizzlies, watched herds of elk swim the South Fork of the Shoshone River, crossed 12,000-foot mountain passes, and collared elk to map their movements, all to better understand how long-distance migration ties together the landscape—from ranches near Cody to Yellowstone's renowned Thorofare country.
The Center featured Riis's images in its 2014 exhibition "Pronghorn Passage," a multi-media presentation on pronghorn migration. For its 2016 special exhibition, "Invisible Boundaries: Exploring Yellowstone's Great Animal Migrations," the Center introduces the pair's work to the public. In addition, a documentary film titled "Elk River" is in the works. Riis's photos appear in the May 2016 issue of National Geographic magazine focused on America's National Park Service centennial, as well as, in a book featuring Yellowstone migrations images. Middleton, who recently accepted a wildlife ecology faculty position at the University of California-Berkeley, has more work planned in the GYE, and hopes the elk project will spur broader interest in scientific studies and conservation of migratory wildlife.
Riis and Middleton are among 10 honorees in the running for National Geographic People's Choice Adventurer(s) of the Year. The public can vote every day through January 31, 2016, on the Adventurer site.
Since 1917, the award-winning Buffalo Bill Center of the West in Cody, Wyoming, has devoted itself to sharing the story of the authentic American West. The Center, an affiliate of the Smithsonian Institution, is open 10 a.m. – 5 p.m. daily through November 30. Winter hours, in effect December 1 – February 29, are 10 a.m. – 5 p.m. Thursday – Sunday, closed Monday - Wednesday. For additional information, visit the Center's website or its pages on Facebook and Google+.