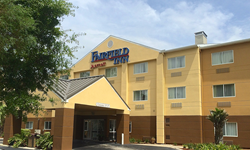 Jacksonville, FL (PRWEB) November 24, 2015
The Naples Hotel Group, a leading owner, operator and hotel management company for nearly 18 years, announced today that it has hired Stefany Lenhart as General Manager of the Fairfield Inn Jacksonville Orange Park in Florida. In her new role with NHG, Lenhart will be overseeing operations, sales, marketing and guest satisfaction at the property.
Stefany joins the Fairfield Inn Orange Park from Apopka, FL, where she was previously General Manager of the Holiday Inn Express & Suites, also managed by Naples Hotel Group. Lenhart attended school at the University of South Carolina where she obtained a degree in Hospitality Management and Accounting and also her MBA in International Accounting. Prior to working for Naples Hotel Group, she gained industry experience at a Hampton Inn and a Hilton in Columbia, South Carolina.
The Fairfield Inn Orange Park has 82 rooms and is conveniently located off I-295, between Jacksonville and St. Augustine, near Jacksonville Naval Air Station (NAS) and Orange Park Medical Center. Naples Hotel Group is excited to welcome Stefany to this hotel.
For more information or media inquiries, please contact Brittany Bou-Sliman at brittany(at)napleshotelgroup(dot)com or 239-206-4273.
About Naples Hotel Group
Naples Hotel Group is an independent owner, operator, and third-party management company of hotels founded in 1999. They have achieved superior results and have a proven ability to enhance the performance of hotels through the use of their experience, responsiveness and extensive resources. The family-owned hotel management and development company offers a uniquely hands-on approach to hospitality, whether properties are new or acquired. NHG, located in Naples and Orlando, FL, prides itself on building long-term relationships with quality people and organizations. To learn more visit, http://www.napleshotelgroup.com.