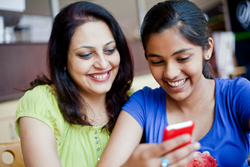 "Our families now have more information and greater access to the wonderful programs in our district and surrounding community." Ryan Foster, associate superintendent, Auburn School District
Aurburn, WA (PRWEB) November 19, 2015
Auburn School District has recently launched Peachjar, a digital communication tool that will increase parent and community engagement. "Our families now have more information and greater access to the wonderful programs in our district and surrounding community," said Ryan Foster, associate superintendent for Auburn School District.
Since it introduced Peachjar in September 2015, more information about events and activities is reaching parents. This is especially evident in grades 6-12 where parents did not receive any direct communication, and instead relied on their child to see a poster at school about a district or community partner's event. Paper flyers were sent home to parents of K-5 students, but may have been buried at the bottom of backpacks. Now the district is able to communicate directly with families about programs and events.
In less than two months, Auburn School District has eliminated the need to print 340,000 sheets of paper, saving 40 trees.
About Peachjar:
Peachjar was founded in 2011 in response to the billions of paper flyers being carried home from schools each year in children's backpacks. Parents across North America now receive important school information on to go, and can click to register their children for activities and events. Check out Peachjar's one-minute animatic to learn more.