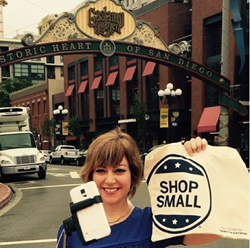 This year's Small Business Saturday is November 28th, 2015
San Diego, CA (PRWEB) November 20, 2015
Shop Small is a movement encouraging people to shop at small businesses; millions of individuals, businesses, and communities have embraced it nationwide. Small Business Saturday is celebrated on the Saturday after Thanksgiving. This year's Small Business Saturday is November 28th, 2015. American Express encouraged small business owners to take charge of the day, helping them promote their businesses with free personalized ads, which appeared millions of times across the web.
Stylist, Jocelyn, from Dearinger Salon is the American Express Neighborhood Champion. She will lead the event in the Downtown San Diego Gaslamp Quarter on Saturday, November 28th at Dearinger Salon. Over 2 dozen businesses are expected to participate by offering special deals along with gift card donations for the salon to raffle off on Saturday. Each participating business will have an image on our Instagram page - http://www.instagram.com/dearingersalon. Dearinger Salon's event will start promptly at 8:00am on Saturday the 28th and last all day with raffles, food and discounts on services! Dearinger is located at 307 Market Street, San Diego, CA.
For additional information please contact Mark Dearinger at 619-804-2708.