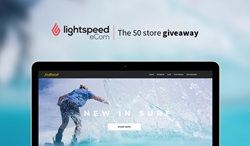 "This is an enormous step in our evolution. We set out to help independent retailers grow and thrive by giving them a POS with the same back-office tools used by big retail in a user-friendly, mobile package," said Dax Dasilva, CEO, Lightspeed POS.
London (PRWEB UK) 19 November 2015
For retailers who need to compete in an increasingly competitive, global retail environment, Lightspeed eCom offers a localised, multi-lingual, multi-currency eCommerce platform. Lightspeed's first offering for online-only merchants features predictive analytics, full design customisation and the ability to manage complex inventory needs. In the coming months, Lightspeed will integrate Lightspeed eCom with its Lightspeed Retail cloud-based POS solution, bringing multi-channel retailers an even more robust set of tools to run their entire business from one place.
To mark the occasion and demonstrate Lightspeed's commitment to support the UK's high street, the company is offering 50 retailers use of the platform for 12 months free of charge. To apply for one of the 50 free licences, independent UK retailers should register here or contact Lightspeed UK by email at info.uk(at)lightspeedhq.com or call +44 20 3695 9599.
Lightspeed eCom is the most complete, all-in-one eCommerce solution on the market for independent retailers. UK merchants now have an easy-to-use, yet highly customisable, solution that enables them to launch their online stores quickly and with minimal technical requirements. They can market their products, sell to anyone from anywhere, adapt to international requirements, and analyse customer and store performance data for insights that help drive sales. Features include:
● Ease of Use: Enables merchants to build and launch their online store quickly and easily. With over 100 professionally designed and fully customisable templates, retailers can create a site that reflects their brand in under an hour.
● Advanced Inventory Management: Offers the inventory tools independent retailers need to compete, including the ability to bulk import and export items; set up product variations, bundles and promotions; and feature products by brand or collection.
● Global Sales Capabilities: Supports sales in 14 languages and all currencies; manage inventory, product set-up and currencies across languages with a few clicks. Lightspeed eCom also offers integration with leading international payments providers and automatically calculates international tax.
● Marketing Suite: Provides a complete set of marketing tools, including SEO optimisation, social sharing and a built-in blogging platform.
"This is an enormous step in the evolution of our company. We set out to help independent retailers grow and thrive by giving them a POS with the same back-office tools used by big retail in a user-friendly, mobile package," said Dax Dasilva, CEO, Lightspeed POS. "With the industry rapidly digitising, online-only merchant demand has grown exponentially. Bringing SEOshop into the Lightspeed family gives us additional scale, and allows us to help store owners create a global shopping experience and sell smarter- all from an iPad- no matter how their customers choose to shop."
SEOshop is the fastest growing eCommerce platform in Europe, doubling revenue every year for the past three years, delivering more than 1000% revenue growth from 2011 to 2014. SEOshop currently serves more than 8,000 leading online merchants including Heineken, Philips Lighting, National Geographic Netherlands and the Van Gogh Museum, all of whom will become Lightspeed eCom customers. As part of the deal, SEOshop CEO Ruud Stelder will join the Lightspeed leadership team as director of global eCommerce revenue, and CTO Dennis Cuijpers will become Lightspeed's director of eCommerce development and architecture.
"For a global brand, SEOshop's robust, multilingual platform is the perfect fit for the demands of our international scope. They make it easy to manage our international presence, and we've always felt confident that our data— and our customers' data— is secure," said Michael Wantens, marketing manager, Philips Lighting. "As we look to grow our omnichannel presence, we're thrilled to have access to Lightspeed's technology and strong international reputation. With this acquisition, we are able to keep the eCommerce solution we know and trust, while gaining a strong platform for future international growth."
This news comes in a banner year for Lightspeed. In September 2015, Lightspeed announced £40 million in funding. With the acquisition of SEOshop, the company now serves 34,000 businesses in more than 100 countries, processing £7.8 billion in annual transactions.
About Lightspeed POS
Lightspeed provides retailers and restaurateurs the simplest way to build, manage, and grow their business and create a better customer experience. More than 26,000 businesses processing over $11 billion in transactions annually use Lightspeed's mobile POS and commerce platform to manage inventory, customer preferences, sales, and analytics to get a complete view of their entire business in one place. Founded in 2005 with offices in Canada, USA, and Europe, Lightspeed is backed by Accel Partners, iNovia Capital, Caisse de dépôt et placement du Québec (CDPQ) and Investissement Québec (IQ). Visit us at http://www.lightspeedhq.com.
About SEOshop
SEOshop, backed by European based VC henQ, is the fastest growing eCommerce platform of Europe. SEOshop provides a Software-as-a-Service (SaaS) platform for companies to set up their online stores. The platform offers standard over 150 core integrations for all payment providers and shopping networks in Europe like Klarna, Paypal, Adyen and more. SEOshop services over 8000 customers in the Benelux and Germany geographies, including Heineken, Philips, Grolsch, National Geographic Netherlands, and Van Gogh Museum. SEOshop employs 80 passionate Internet and ECommerce specialists, working on innovation and internationalization on a daily basis.