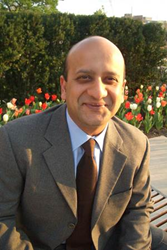 Mentor, OH. (PRWEB) November 23, 2015
Roll-Kraft has named Sanjay Singh as President of Roll-Kraft, effective immediately. He will oversee the daily activities of the company and be involved in all aspects of the business. Mr. Singh joined Roll-Kraft in 2013 as Executive Vice President. He has been active in sharpening the company's focus on lean manufacturing, as well as leading the company to meet its goals of on-time delivery and first-time performance, on-site at the customer's facility. Roll-Kraft's up-to-date performance metrics are available to view at roll-kraft.com.
Former president, Chuck Gehrisch, has led Roll-Kraft for decades and will continue in his role as Chairman and CEO. The Gehrisch name has been synonymous with Roll-Kraft since its modest beginning in 1963, making Roll-Kraft a worldwide leader as a tooling supplier to the tube and pipe and roll forming industry.
Roll-Kraft's headquarters are located in Mentor, Ohio, and the company maintains other facilities in Frankfort, Illinois (Roll-Kraft Northern), Houston, Texas (Roll-Kraft Texas) and Ontario, Canada (Roll-Kraft Ltd.).
Calls to the company's main line, (888) 953-9400 or (440) 205-3100, are greeted by a live operator who can assist callers in quickly reaching a technician, engineer, or sales staff, who can provide immediate assistance. The company fax number is (440) 205-3110. Learn more about Roll-Kraft by visiting the website at roll-kraft.com. For easy and immediate contact with Roll-Kraft that transcends time zones and working hours, the website features Dr. Resolve. Simply complete and submit an on-line form and Roll-Kraft will respond.