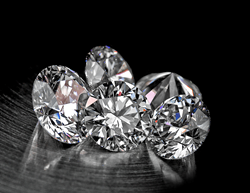 "We saw a unique opportunity to bring comfort to customers purchasing smaller size diamonds," said Brian Gavin.
HOUSTON (PRWEB) November 19, 2015
Brian Gavin Diamonds has earned the title of first-and- only online retailer to offer lab-graded 20 pointer (1/5 of a carat) diamonds. Customers who purchase 0.19 to 0.22ct diamonds from Brian Gavin Diamonds will now receive a lab-graded report from the American Gem Society (AGS) Laboratories, identifying the diamond's cut quality and light performance.
AGS is an organization known for its strict grading standards, and Brian Gavin Diamonds is an industry leader in AGS-graded diamonds in a range of carat weights. While the majority of diamond companies do not offer a lab-graded report for 0.20ct diamonds, Brian Gavin Diamonds worked with AGS Laboratories to bring lab grading to these smaller size stones.
"We saw a unique opportunity to bring comfort to customers purchasing smaller size diamonds," said Brian Gavin. "Offering lab-graded 0.20ct diamonds is an extension of the Brian Gavin Diamonds promise to deliver ease and peace of mind to customers during their diamond selection process," continued Gavin.
Brian Gavin Diamonds is committed to offering attention to detail from the smallest to the largest diamond. Brian Gavin Signature diamonds go beyond the ideal diamond standard in terms of consistency, precision and cutting design to achieve the level of "super ideal" in visual balance and performance under any lighting condition. Each diamond displays a unique brilliance and fire that reveals the distinct beauty and personality of the stone, and gives voice to the inner essence of the diamond through its contrast, brightness and scintillation.
From engagement rings and wedding bands in an array of settings and styles to gemstone jewelry featuring amethyst, citrine, and morganite stones to its pearl collection, Brian Gavin Diamonds offers a range of choices to meet the diverse needs of its customers. The company specializes in precision-cut diamonds and custom jewelry creations combining old world knowledge with new age technology.
For additional information on Brian Gavin Diamonds, please visit http://www.briangavindiamonds.com, or contact Kate Clark at (281) 731-0979 or Kate(at)integrateagency.com.
###
About Brian Gavin Diamonds
Brian Gavin Diamonds has been setting the standard in the diamond industry since Brian the Cutter started the business in response to the public's demand for his quality of super ideal cut high performing diamonds in 2009. Brian Gavin Diamonds' Signature Collection diamonds are in a class above the rest, offering customers its patented cushion and round cuts, as well as the Brian Gavin Blue® collection and Signature Princess Cut, sold exclusively across the world on its e-commerce site, as well as in its Houston-area showroom.