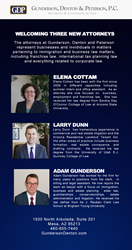 We are proud to welcome these exceptional attorneys to our team, and we are confident they will provide an additional level of service to our clients, helping them to meet their goals. - Attorney Brad Denton
Mesa, Arizona (PRWEB) November 24, 2015
Arizona law firm Gunderson, Denton and Peterson recently welcomed three new attorneys to its team of experienced business, litigation, estate planning and immigration lawyers. Each of the new attorneys brings diverse experience and expertise to the team, helping the firm expand its services to customers in Mesa and throughout Arizona.
The three new hires are: Larry Dunn, litigator/trial attorney; Adam Gunderson, who works in immigration and business law; and Elena Cotttam, who will practice in business, employment, and franchise law.
"We are proud to welcome these exceptional attorneys to our team, and we are confident they will provide an additional level of service to our clients, helping them to meet their goals," said Brad Denton, a founding partner of the firm. "Our new team will help clients with all aspects of business and immigration law, ranging from estate planning to insurance issues and visa issues. We'll be able to help a wider range of clients with more issues."
Larry Dunn has experience with commercial and real estate litigation. He worked at one of the largest residential landlord firms in the state as measured by volume, and he has extensive experience with the Arizona Residential Landlord Tenant Act. He has represented cases involving real estate contracts, insurance issues, landlord and tenant disputes, and commercial real estate issues.
Dunn's other experience includes business formation, real estate conveyance, and drafting contracts.
Dunn is a native of Arizona. In his spare time, he plays violin with the Symphony of the Southwest.
"I'm pleased to join Gunderson, Denton, and Peterson, and I look forward to working with clients on a range of business and real estate issues," Dunn said. "I am committed to getting results for my clients."
Adam Gunderson has a long history with the firm, working as a file clerk, in the billing department and as a legal assistant at different times. After graduating from the J. Reuben Clark Law School at Brigham Young University last year, he is now re-joining the firm as an attorney.
Gunderson focuses on immigration, as well as business and estate planning. His other practice areas include elder law, guardianships, conservatorships, estate administration and litigation.
In his free time, Gunderson spends time with his family and roots for the Phoenix Suns.
"I look forward to helping my clients work through the complex issues surrounding immigration, to help them start their new lives in the country or to join their families here," Gunderson said.
Elena Cottam also returns to Gunderson, Denton and Peterson after having worked for the firm in other capacities. Since 2009, she has worked as an office assistant, a legal assistant, and a summer intern. The firm now welcomes her back as an attorney who specializes in business law, employment law, and franchise law.
Cottam graduated from Brigham Young University Hawaii with a degree in political science, and she attended Sandra Day O'Connor College of Law at Arizona State University.
In her free time, Cottam enjoys spending time with her family and traveling. She is also an Arizona native.
"I'm proud to continue my work at Gunderson, Denton, and Peterson, and I'm happy to be able to serve our clients," Cottam said.
Each of the attorneys is currently working with clients. For more information about the firm, or to make an appointment with one of the attorneys, contact Gunderson, Denton and Peterson at (480) 655-7440 or at 1930 North Arboleda, Suite 201, Mesa, AZ 85213.
About Gunderson, Denton and Peterson
The law firm of Gunderson, Denton and Peterson provides representation for immigration and business law matters, including international tax planning, franchise law, collections law, and all aspects of corporate law. The team of experienced attorneys represents both small and large businesses, as well as individual clients. The firm prides itself on providing individual attention and service, and the attorneys dedicate themselves to fighting for the best results possible for each case.