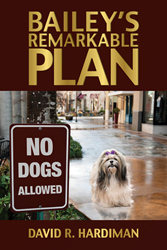 Dallas, TX (PRWEB) November 19, 2015
A lifetime of illness set author David Hardiman on a path of physical, mental and emotional despair until he crossed paths with a shih tzu puppy named Bailey who changed his life forever. Bailey's Remarkable Plan is a story of the special bond between a man and his unlikely service dog and best friend.
Bailey's Remarkable Plan is a lesson in faith and perseverance. Born with a rare medical condition that eluded diagnosis for over five decades, Hardiman faced difficult and uncommon challenges, including a diagnosis of Post Traumatic Stress Disorder (PTSD). He experienced many breaking points along the way in which he even questioned God, but still, he never allowed his trust in Him to falter. So, when Bailey padded into his life, he knew she was a gift from God. What he didn't know, was that she had been sent with a purpose and a plan.
"I made every attempt to function as if I was ok," says Hardiman. "When I failed, I was blessed with a beautiful, small, genius dog that could recognize, even before me, if I was under attack, and could alert me, and even help me deal with the horror of my experiences."
Bailey's Remarkable Plan is also a cautionary tale about what can happen when judgments are based on preconception and the pain and suffering that it can cause. "Throughout my life, I have faced struggles and illness," says Hardiman. "Many people are born with obvious disabilities. Some like me, have conditions that cause disabilities that are not so obvious. Not all disabled people look disabled. And not all service dogs are large breed dogs such as German shepherds or Labrador retrievers."
Bailey is a double pedigree shih tzu with brindle patterned long hair. "She is a remarkable dog," says Hardiman. "She saved me and allows me some feelings of normalcy. My life would be less without her. She is a beautiful well-mannered genius."
"I can easily see God's handprint of grace and power throughout Bailey's Remarkable Plan," says Ron Swadley, emergency relief specialist. "I believe that God often sends an unexpected blessing that serves as hope and the determination to persevere in even the most tragic personal events. That's exactly what God did through Bailey, and this book is a true testimony that miracles do happen."
For more information and to purchase Bailey's Remarkable Plan, please visit http://www.baileysremarkableplan.com.
For media inquiries, contact Vicki Morgan (Vicki(dot)Morgan(at)BrownBooks(dot)com) 972-381-0009