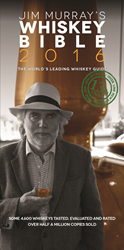 To say this is a masterpiece is barely doing it justice. --- Jim Murray
Wellingborough, England (PRWEB) November 20, 2015
Jim Murray's Whiskey Bible 2016 has awarded the coveted title of "World Whisky of the Year" to one of the world's most remote distilleries, Diageo's Gimli Distillery, for its special Crown Royal Northern Harvest Rye. The new 2016 (13th annual) edition of Murray's book debuts November 24, 2015, for distribution in North America, and is available from booksellers worldwide for US$19.95.
The Gimli Distillery sits on the shores of Lake Winnipeg in central Canada. This marks the first time a Canadian Whisky has won the top prize in the Whiskey Bible.
In 2014 the whisky world was shaken when the award unexpectedly went to a Japanese single malt. Whisky authority Jim Murray, who tasted more than 1,000 new whiskies before making his 2015 announcement, said, "Last year people were shocked when I gave Yamazaki the award—until they tasted it. Then they saw it was not the affront to Scotch they first thought and something truly extraordinary. This year, doubtless there will be many more eyebrows raised because rarely is Canada mentioned when it come to the world's top whiskies. But, again, I have no doubt people finding the bottling I tasted will be blown away with this whisky's uncompromising and unique beauty. It certainly puts the rye into Canadian rye."
Although Canadian whisky is commonly known as rye, this new brand is one of only a handful actually made from near 100% rye grain. Most others are distilled from corn or wheat with rye and other flavourings added.
Said Mr. Murray: "To be honest, I had been considering actually demoting Canadian whisky from having its own chapter in the Bible. The quality of Canadian has been disappointing me for some time with too many non-whisky products, like fruit juice or wine, being added to give a softer flavour.
"Then Crown Royal Northern Harvest pops up out of nowhere and changes the game. I think other distillers out there have to have a close look at this and see if they can at least have a go at reaching where this new bar has been set. Otherwise the name of Canadian whisky will continue to decline against the high standards being set in other countries."
In his Whisky Bible 2016 Murray gives Northern Harvest Rye a record-setting 97.5 out of 100 points. He writes: "Rye, that most eloquent of grains, not just turning up to charm and enthral but to also take us through a routine which reaches new heights of beauty and complexity. To say this is a masterpiece is barely doing it justice."
The Gimli Distillery in Manitoba was first visited by Mr. Murray in the mid-1990s when he described it in his Complete Book of Whisky as being located "where the Prairies are at their Prairiest." In the winter the warehouses sit under a foot of snow and the usual -18 temperature in January can sometimes plummet to -40. It is, quite literally, many hundreds of miles from its nearest fellow distillery.
Crown Royal's Northern Harvest Rye made it an astonishing one-two for rye whisky, as it narrowly eclipsed Pikesville 100 proof Straight Rye from the Heaven Hill Distillery Kentucky for top spot. Third came another traditional whiskey, a pure pot still from Ireland, Midleton Dair Ghaelach. It is the first time an Irish whiskey has made one of the top three spots.
With Buffalo Trace's William Larue Weller bourbon coming in fourth and Yamazaki Mizunara from Japan fifth, it is the second year running that Scotland has missed out in a top-five placing in the Whisky Bible.
# # #
NEWSDESK NOTES:

Other award winners: Scotch of the Year — Glenfarclas Family Cask 1957; European Whisky (Multiple casks) — English Whisky Co. Chapter 16; European Whisky (Single cask) — Kornog Taouarc'h Chwec'hved 14.
Jim Murray's Whisky Bible 2016 is available in all good book shops and online at whiskybible.com, priced at £12.99 or US$19.95.
The 2016 edition contains detailed taste notes for around 4,600 whiskies, including more than 1,000 new labels, all marked for nose, taste, finish, and balance.
Jim Murray's Whisky Bible has sold more than 500,000 copies in the English language.