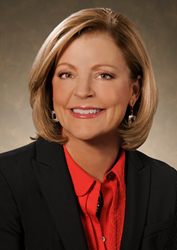 Accounting is a sustainable profession that will offer you unprecedented opportunities to learn and grow both technically and personally.
Denver, Colorado (PRWEB) November 20, 2015
Melissa K. Hooley, Partner-in-Charge of Anton Collins Mitchell LLP's (ACM) Benefit Plan Practice was awarded the honor of being one of the 2015 Most Powerful Women in Accounting. Each year, CPA Practice Advisor recognizes women professionals who have had the most impact on the profession, whether through day-to-day client service as a partner or senior member of an accounting practice, or by mentoring and guiding others.
"Women are increasingly assuming positions of authority and emerging as the foremost leaders in the accounting profession, within accounting firms, consulting groups and at technology vendors," said Isaac M. O'Bannon, Managing Editor of CPA Practice Advisor. "Melissa Hooley's accomplishments as a partner with Anton Collins Mitchell, as well as her contributions to the profession and her local community are an inspiration to young professionals, both men and women, as they aspire to great heights in the accounting field."
Hooley is the current Chair of the AICPA Women's Initiatives Executive Committee (WIEC). The WIEC's mission is to promote and support the success of women for the broader purpose of sustaining the profession by creating an inclusive environment, increasing talent engagement and leadership opportunities for women. She also has a number of philanthropic involvements including the MS Society and American Transplant Foundation.
Hooley hopes that younger generations will continue to enter the accounting profession. "Accounting is a sustainable profession that will offer you unprecedented opportunities to learn and grow both technically and personally. It offers more flexibility than people realize," said Hooley. She also encourages firms to provide a flexible workplace and a path to reach professional goals; noting that the priorities of up-and-coming leaders has changed with quality of life being a higher priority than it has been for former generations. "View careers as a marathon, not a sprint," Hooley advises, "and you will keep your employees engaged."
You can read more about Melissa in her CPA Practice Advisor interview.
###
About ACM:
ACM is a full service public accounting firm headquartered in Denver, Colorado with offices in Northern Colorado, Boulder and now Laramie, Wyoming. ACM provides assurance, tax and consulting services to entrepreneurs and established companies ranging in size from start-up organizations in the development or exploratory stage to established entities with multi-state and international operations. The firm's membership in the BDO Alliance USA combines the resources of the 5th largest accounting organization in the world and the personal attention of a local firm. For more information visit http://www.acmllp.com.