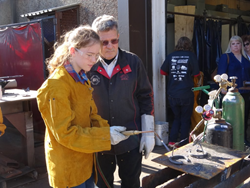 I didn't know anything about Mechatronics at Sierra College but now I am extremely interested.
Rocklin CA (PRWEB) November 23, 2015
High school girls have a new confidence, openness to nontraditional career choices and a better sense of their own interests as a result of the Third Annual Sierra College Nontraditional Employment for Women (NEW) event held on November 6, 2015. The goal was to inspire high school girls to consider Science, Technology, Engineering, Art and Math (STEAM) careers where women comprise 25% or less of the workforce.
The girls attended a keynote presentation from professional women in nontraditional careers. Then they made projects in Welding, Engineering, Mechatronics, Photography, Technical Theater, Art for Video Games, Applied Art & Design and Drafting & Engineering Support labs. During lunch, they participated in small group mentoring sessions with women working in nontraditional fields.
Girls reported that the experience: "Made me open my horizons about what to do in the future," "It inspired me to find what I want to do and push toward goals to accomplish them," and "I think this helped me become more serious about careers."
The event impacted girls' plans for the future: "Made me feel confident in my career choice," "I didn't know anything about Mechatronics but now I am extremely interested in looking for a Mechatronics job," and "This experience changed my thinking about education and career plans and it inspired me to work harder in high school."
The girls enjoyed NEW activities: "It was very fun to be learning in an unusual way and working with my hands," "It was empowering to women and showed me new possibilities," and "It has definitely made me more open about trying new things and it has encouraged me to start finding my interests."
The Sierra NEW program was a tremendous opportunity for students according to Jennifer Issac, Science Teacher, Del Oro High School in Loomis. "What makes this program so special are the amazing speakers from nontraditional fields and the hands-on activities in the college labs," said Issac. "Many young ladies told us that their interests have changed because of this program. Now they aspire to go into different STEAM fields."
Willy Duncan, Sierra College President, encouraged the girls to explore the possibilities at Sierra College. "We want you to come to Sierra College and join our campus community," said Duncan. "With small classes and dedicated faculty, you will learn useful skills that you can take out into the world and accomplish great things. Our graduates in nontraditional fields are succeeding in exciting, well paid careers and through Sierra College's partnership with Hacker Lab, our students are making, innovating and starting new businesses. You can too!"
The event opened with a message from Katie Lucero, Sierra College Math faculty member. "We have so many resources to help you succeed in math and other classes at Sierra College," said Lucero. "Be persistent and take advantage of tutoring."
The keynote panel presentation was arranged by Gina Lujan, Co-Founder, Hacker Lab, who urged the girls to follow their dreams. "My passion is helping people dream big, learn and discover, and do cool things," said Lujan. "Dream, discover and do to find your passion."
Alona Jennings, CEO, The Go 2 Network and Co-Founder, Code for Hood, encouraged the girls to take action. "Get involved with everything that interests you and try it once," said Jennings.
Emma Fletcher, Co-Founder, Rocket Dept., and Engineer, Intel® and Jenna McKay, Social Media Expert, VOLT also inspired the girls to explore, build things and consider nontraditional careers. For example, Fletcher discovered her passion for engineering when she went with a friend to a robotics club meeting.
The NEW event was hosted by the Sierra College Center for Applied Competitive Technologies and Career Technical Education, in partnership with the Placer Union High School District and Hacker Lab. Sponsors included CRANE, Sierra College Foundation, California Community Colleges North Far North Regional Consortium and Special Populations Collaborative, Golden Sierra Job Training Agency, Valley IT Support, Parallax Inc., RuffStuff Specialties, SME Sacramento Valley Chapter and SMUD.
Industry mentors represented: AAUW, AB CNC, AEROTEK, CSUS Engineering, GLUMAK, Harris Gas, LB Construction, Mcloughlin Studios, Newcastle Produce, PASCO Scientific, PCWA, Placer County, SME Sacramento Valley, SMUD, Studio KYK and Union Pacific.
About Sierra College CACT
Sierra College Center for Applied Competitive Technologies (CACT) is focused on Advanced Manufacturing and is funded through the Workforce and Economic Development program of the California Community College Chancellor's Office. Since 1992, the Sierra College CACT has provided customized training in lean, process improvement, zero waste, supervision, workplace software, communication and many other topics for organizations, manufacturers and technology companies throughout Northern California. For more information, contact Carol Pepper-Kittredge at training(at)sierracollege.edu or 916-660-7801.
About Sierra College
Sierra College serves 3200 square miles of Northern CA with campuses in Roseville, Rocklin, Grass Valley, and Truckee. With approximately 125 degree and certificate programs, Sierra College is ranked first in Northern California (Sacramento north) for transfers to four year universities, offers career/technical training, and classes for upgrading job skills. Sierra graduates can be found in businesses and industries throughout the region. More information at http://www.sierracollege.edu