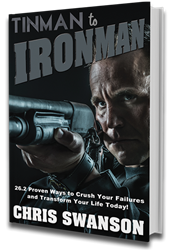 A Tinman desires to change the game. An Ironman changes the game!
(PRWEB) November 30, 2015
Author Chris Swanson launches his first book, 'Tinman to Ironman' today through Next Century Publishing. From his teens to his early twenties, Chris Swanson lived the life of a shallow Tinman. However, after a confrontation with a home intruder in his late twenties, Chris began his transformation into an Ironman, and changed his life forever.
For more than two decades, Swanson has been inspiring ordinary people to do the impossible. He has the gift to impact lives. Through years of acquired experience, Chris has put his life-lessons down on paper. Paired with clear and practical 'take-aways', and paralleled with Swanson's personal story, each reader will put something uniquely insightful to their journey from this break-out book, which is equipped with 26.2 chapters of transformational tips. Chris is also the Founder of Swanson Leadership- a company with a proven record of changing lives. By the power of inspiration, extraordinary accountability, and goal setting, Chris believes that any individual can be transformed into the person they were truly meant to be.
"Chris Swanson hustles like few people I've ever met! If you want to be inspired, challenged, and fired up, he's the man to go to!" – Jon Acuff, New York Times Bestselling Author of 'Start, Punch Fear in the Face, Escape Average, & Do Work That Matters.
The book is available for purchase from Amazon, Barnes and Noble , and Reader's Legacy.
About Chris Swanson:
Chris Swanson is a career law enforcement officer, with experience spanning nearly 20 years in a variety of positions, including narcotics, criminal investigation and law enforcement operations. Swanson holds a master's degree in public administration – criminal justice, and a bachelor of applied science from the University of Michigan. Swanson holds numerous state and national professional certifications. He is also a 4 time IRONMAN finisher. Chris Swanson will help you become the BEST version of yourself, and love every aspect of your life. For more than 2 decades Swanson Leadership (web link) has been inspiring ordinary people to do the impossible. By the power of inspiration, extraordinary accountability, goal setting and experience, you will be transformed into the person you were meant to be. Stop making excuses! Stop accepting the status quo! Join those who have moved mountains TODAY.
Next Century Publishing (NCP):
Next Century Publishing is a hybrid publishing company that has carved out a niche by offering a wide variety of publishing services to its clients. At NCP, the authors' needs and desires for their books are evaluated, and the appropriate publishing packages are then suggested to them. From simple E-book publishing to traditional trade publishing, NCP does it all. NCP's revenues have grown by over 200% in each of the past 3 years. With offices in Las Vegas, Toronto and Panama, the company is now prepared for another year of triple-digit growth.
Media inquiries: Shannon Lutz (702)912-2405 Shannon(at)NextCenturyPublishing(dot)com