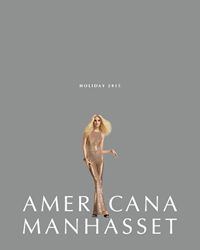 (PRWEB) November 23, 2015
The campaign was inspired by the festivity and light of the holiday season. It was photographed at Milk Studios in New York with top runway and editorial models Caroline Trentini and Henrik Fallenius. Americana Manhasset has also debuted a fun and funky animation on the homepage of americanamanhasset.com, featuring Caroline Trentini getting her groove on in a glittering Michael Kors jumpsuit.
Americana's glossy Holiday Book is direct-mailed to 130,000 targeted households. The images are being featured in national and regional print ads in publications including The New York Times and T-Styles magazine as well as in various digital media such as nyt.com. The campaign is also being shown prominently throughout the season on Americana's website and featured on Americana's social media outlets.
Americana Manhasset is a premier collection of over 60 fine shops, including Hermès, Chanel, Louis Vuitton, Gucci, Cartier, Ermenegildo Zegna, Van Cleef & Arpels, Bottega Veneta, Hirshleifers, Ralph Lauren, London Jewelers and more, all within a unique outdoor environment designed by renowned architect Peter Marino and landscape designer Oehme van Sweden. Americana Manhasset offers a complimentary Personal Shopping Service, a remarkable luxury fashion and gift resource. Located on Long Island's beautiful North Shore, Americana Manhasset is 20 miles from Manhattan and 50 miles from the Hamptons.
Additional and/or high-resolution images from the 2015 Holiday campaign are available upon request.
For more information, please visit americanamanhasset.com.
Follow Americana Manhasset on Instagram, Twitter, and YouTube, like our Facebook page and check out our Blog!