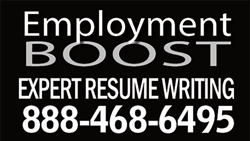 The more, the merrier is the mindset with Holiday sales in 2015. There are all kinds of resume deals at all kinds of prices.
Detroit, Michigan (PRWEB) November 22, 2015
Deals at professional resume writing service, Employment BOOST, for Black Friday and Cyber Monday 2015 will include deep discounts across a full spectrum of career services and resume writing services - saving the customer hundreds of dollars. As the New Year approaches, and shopping season is in full scale, those seeking exceptional career services ranging from resume writing to LinkedIn profile development and career planning will be able to enjoy Employment BOOST's services and score special offers exclusively for this time of year.
Friday deals will include savings of over eighty percent off of a variety of resume writing and career services. Employment BOOST's most popular service, the Professional Resume Writing Service, will be available for only $99. For example, the certified resume writers of Employment BOOST are offering all of their industry-superior professional resume services, excluding the curriculum vitae format and federal resume services. In addition, all professional resumes purchased will include one complimentary cover letter and thank you letter. Add-on services will also be available to complement the drastic deal. Add-on services include the interview coaching classics session, a customized biography, or a LinkedIn profile development service, and will be individually priced at $49 with a resume purchase. All three add-on services can be purchased for a bundled price of $99 – saving over 80% of original services purchased separately.
The Ultimate Resume Package features the professional resume writing service, LinkedIn profile development, Interview Coaching Classics Session, and a customized cover letter. Available for $199, the Ultimate Resume Package offers savings of 73% off of the original price. Employment BOOST is also including a complimentary Career Coaching Guide with the purchase of the Ultimate Resume Package in order to provide job seekers with the unrivaled distinct advantage over competing candidates "The more, the merrier is the mindset with Friday after thanksgiving sales. There are all kinds of resume deals at all kinds of prices," said Alex Noelke, a Career Services Manager at Employment BOOST. It's time for the New Year, new career mindset; furthermore, Employment BOOST's busiest season is fast approaching. The career consultants and resume writing experts are enhancing upon the success that they've achieved over 2015 right through the remainder of the year.
Monday deals will include additional mystery discounts. Nevertheless, Employment BOOST is enticing the customer base to maximize on the savings and opportunity of giving their career a refresh by investing in the future – now! "Employment BOOST prides itself upon providing the highest quality of career services and resume writing, and we're anticipating this season to continue to be extremely productive for our team of resume writing experts and the individuals pursuing a career change," said James Arbuckle, Managing Director of Employment BOOST. "We've tailored our packages to appeal to our clients and our future customers based on the packages of our most requested services and the most beneficial bundles." Additional information regarding deals on resume services is available at Resume Services Sale
ABOUT EMPLOYMENT BOOST:
Employment BOOST is a Troy, Michigan and Chicago, Illinois-based company that provides professional resume writing services and critiquing, executive resume services, cover letter development, career planning, social media profile creation, and interview coaching to job seekers across the nation. For more than a decade, Employment BOOST has consistently been helping people achieve career satisfaction. Employment BOOST uses talented industry experts to tailor resumes to the key content that hiring managers seek. For more information on Employment BOOST, please call 888-468-6495 or visit http://employmentboost.com.