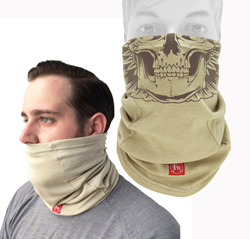 Imagine you are a lineman drilling into a creosote pole and the shavings are getting blown into your face. It's not just windy, this is a debris storm and just one of the reasons to wear an arc and flame resistant Face Muffler by Benchmark FR®.
Santa Ana, California (PRWEB) November 23, 2015
Benchmark FR announces their innovative new product, the Arc & Flame Resistant Face Muffler. This pioneering spin on the traditional face/neck gaiter was brought about by Benchmark FR's collaboration with a major utility company. Due to Benchmark FR's domestic vertical manufacturing capabilities, they were able to bring the product from conception to mass manufacturing in under two weeks. The FR Face Muffler, protects the wearer's face from not only arc flash & flash fire threats, but also from the elements. This lightweight mask has a stretchable ribbed panel to make it comfortable to breathe through. The FR Face Muffler meets the performance requirements of ASTM F1506 and is inherently flame resistant. This product is available now in Beige and the very creative "Skull Face" is available for Pre-Sale.
This product, along with over 80% of the products manufactured by Benchmark FR®, are proudly made in the USA. At the headquarters in Santa Ana, California, they use advanced cellular manufacturing techniques that afford Benchmark FR® the opportunity to be able to achieve rapid prototyping capabilities, thus allowing for new and innovative products, such as the FR Face Muffler.
The all new FR Face Muffler is available now, at the Benchmark FR corporate office/retail space in Santa Ana, and at participating Benchmark FR retailers. The FR Face Muffler 'Skull Face' is available for Pre-Sale! For more information, visit BenchmarkFR.com
About Benchmark FR
Benchmark was founded in 2002 by the collaboration between an engineer & a fashion designer. Since inception Benchmark has focused on making higher quality flame resistant clothing that is skin safe & more comfortable to wear than other FR brands. Benchmark has proudly protected North American workers for over twelve years.
Contact
To learn more about this product, or Benchmark FR®, please contact the customer service team.
1521 E. McFadden Ave, Building F, Santa Ana, CA 92705
Office: 714.360.0663
Fax: 714.360.0240
Facebook: Benchmark FR
Instagram: Benchmark_FR
Twitter: BenchmarkFR