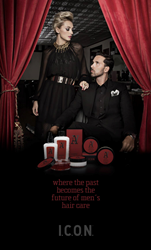 Los Angeles, CA (PRWEB) November 23, 2015
In the early 20th century, barbershops were for men only. They were the new saloon, where men could get a clean shave and haircut. Shaving mugs, advertising signs, frescos on the ceilings, marble counters lined with dark brown tonic bottles. The smells of cherry, wintergreen, apple and butternut flavored pipe and tobacco smoke mixed with the scent of hair tonics, pomades, oils and neck powders. A barber named Alfredo created this world.
Alfredo was Mr. A, loving everything surrounding the craft of cutting hair and the socialization of customers coming into the shop. It was a community, an impromptu family, where everyone knew everyone's name. He passed both his love for the craft and exceptional skill set onto his son, Jorge. This rite of passage led Jorge Rubin, I.C.O.N.'s co-founder, to become an accidental hairdresser and established entrepreneur. His father's legacy lives on through Mr. A; complimented by a shave, haircut, and iconic style for the groomed gentleman.
Proud and nostalgic, this I.C.O.N. collection features a full line of products that prevent hair loss and promote healthy hair. Mr. A. Shampoo and Elixir were specially developed with Procapil as an ingredient base to protect against follicle aging and fortify hair down to the root, with added Pro-Vitamin B-5 for elasticity and moisture, and Tripeptides to strengthen hair and stimulate growth. Used in combination with the Shampoo, Mr. A Elixir serves as a leave-in serum to promote fuller, thicker, and overall denser-looking hair. Added Follisync Bio Functional provides deep hydration, and Vitamin B-3 prevents hair loss.
As all barbers require styling aids to set the perfect look, Mr. A's development considered a pomade for every purpose. "Clay" offers moldability and structure; "Translucent" is firm yet elastic; "Cream" allows normal movement; and "Gelatin Gel" encourages pliability with a wet finish. Active ingredients include Chaparral for growth, Cactus for rejuvenation, Sage to stimulate and refresh, and Yucca and Aloe Vera for body and volume.
For December 2015, I.C.O.N.'s ever-evolving Mr. A will feature grooming products for the modern man's meticulous close shave and fine-tuned facial hair. The full I.C.O.N. line can be purchased through their website or at professional salons nationwide.
About I.C.O.N. PRODUCTS: Worldwide hair care leader I.C.O.N. Products launched in Europe and North America in 2002. Its products are sold in professional salons internationally. Its philosophy is to produce eco-safe care products and create "liquid fashion" with its conscious styling, coloring, and finishing tools to continuously challenge the perception of beauty. I.C.O.N. has consistently broken established, industry rules to provide a balance of identity and "intelligent style." All I.C.O.N. Products are crafted using EcoTech formulations, combining the best of ecology paired with advanced technology. The company offers expansive education and twice-yearly haircut collections via the Front Row.