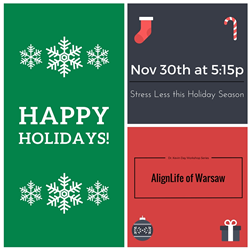 "Stress kills us," Dr. Day frankly stated. "Here in Indiana when the winter months hit and it is dark outside by 6:00 PM and in the teens or below outside, it can be much harder to get the nutrients our bodies need."
Warsaw, IN (PRWEB) November 24, 2015
Dr. Kevin Day, local family chiropractor in Warsaw, is hosting a workshop in his office to help the community stress less this holiday season. During the Indiana winter months, Vitamin D deficiency can lead to Seasonal Affective Disorder causing unnecessary additional stress in people's lives and the team at AlignLife want to help provide the tools needed to combat it this year!
"Stress kills us," Dr. Day frankly stated. "Here in Indiana when the winter months hit and it is dark outside by 6:00 PM and in the teens or below outside, it can be much harder to get the nutrients our bodies need."
AlignLife Health and Wellness in downtown Warsaw is opening its office doors on Monday, November 30th at 5:15 PM for the public to attend a workshop to learn more about managing stress during the holiday's, how Vitamin D deficiency can negatively affect health, and what to do about it. The workshop will also uncover ways to get more movement throughout the day and participants will have one-on-one consult opportunities afterwards to learn if deficient in Vitamin D.
Vitamin D helps the body to absorb phosphorous and calcium essential to bone growth. Vitamin D deficiency can lead to many other health problems including insufficient bone density, fatigue, and muscle aches. To combat this during the months of shorter sunlight, there are many things people can do to create more energy and a positive outlook. Dr. Day will be highlighting the simple, cheap changes within our diet, ways to have more energy in the winter months as well as giving participants the opportunity to learn more with a Vitamin D Blood Panel.
"It is not always discussed, but our mental state in a lot of ways is a production of deficiencies and is similar to a "gateway drug" for many alarming health problems," stated Dr. Day.
AlignLife of Warsaw is located at 118 W Market St, Warsaw, IN 46580. The workshop on 11/30/2015 will be free to attend but limited in seating. Please call our office today at (574) 268-2727 to reserve your spot! Bring your spouse, colleagues, friends and family for an educational, fun event. The workshop will be about a half hour of presentation and time for gathering and networking after.