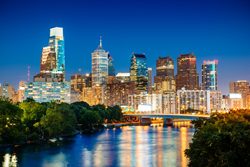 "When guests stay in Old City, they enjoy access to some of America's most iconic landmarks. Our 20% discount allows guests to experience the city's fascinating history while enjoying the added benefits of free parking and discounted meals.
Philadelphia, PA (PRWEB) November 24, 2015
Penn's View Hotel, a boutique hotel in "The Birthplace of America," is excited to announce a Cyber Monday deal that offers 20% savings on accommodations, a dine-in voucher at the hotel's in-house restaurant Panorama (a $28 value), and complimentary parking. Guests who make reservations between November 30 and December 1, 2015, can take advantage of the seasonal savings.
Since the offer is appropriately timed for the holidays, guests can experience:

The holiday light show at Macy's City Center
Rittenhouse Square Tree Lighting
Blue Cross RiverRink Winterfest
Christmas Village at Love Park
New Year's Eve Fireworks
Mummers Parade
Learn more about Penn's View Hotel's Cyber Monday offer.
About Penn's View Hotel:
Situated near the Delaware River, Penn's View Hotel is a boutique hotel enriched with American history. This Philadelphia hotel offers pristine guestrooms and suites with easy access to world-class dining, shopping and attractions, such as Independence Hall and the Liberty Bell. Guests of Penn's View Hotel have complete access to complimentary Wi-Fi, complimentary breakfast, daily newspapers, an onsite wine cellar, fitness facilities and onsite Italian dining at Panorama.