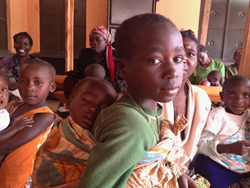 As part of the BVBC global working group, CFHI will join a diverse collection of individuals and organizations throughout the world advocating for ethical models of volunteering.
San Francisco, CA (PRWEB) November 24, 2015
Child Family Health International (CFHI), a Bay Area non-profit leader in global exposure for students and universities, today announced its partnership with Better Volunteering, Better Care (BVBC), an inter-agency initiative founded by Better Care Network and Save the Children UK in 2013. As part of the BVBC global working group, CFHI will join a diverse collection of individuals and organizations throughout the world advocating for ethical models of volunteering. Other members of the BVBC global working group include Friends International, Next Generation Nepal, and Impact International.
BVBV was created in response to a growing concern from child protection specialists and other stakeholders about the negative impact of volunteerism within residential child-care facilities, including orphanages and children's homes. The BVBC global working group's efforts are focused on raising awareness of the risks to children through international volunteering in residential care centers; creating behavior change so that people who are travelling internationally, and planning or considering volunteering or participating in mission activities can make ethical and responsible choices about how and where they undertake such activities; and supporting and promoting those who seek to understand and role model responsible volunteering.
"I'm delighted that CFHI has joined the Better Volunteering Better Care global working group, and I look forward to working together," states Rebecca Smith, Children Without Appropriate Care Adviser at Save the Children UK. "I hope to be able to exchange ideas and experiences around this topic, and learn more about CFHI's efforts to raise awareness around ethical and appropriate pre-professional health-based volunteering."
CFHI currently operates over 30 community-based Global Health Education Programs in 10 countries that place students within existing health systems alongside local professionals, patients, and community leaders. Since its founding in 1992, the organization has offered innovative program themes that provide transformational learning opportunities for students, while empowering host communities. This month, CFHI launched the "Community-Based Orphan Care & Health" program in Arusha, Tanzania. Here, CFHI Global Health Scholars will witness family and community-based alternatives to orphan care and contribute to community-driven initiatives that improve socioeconomic and health outcomes. In August 2015, CFHI and BVBC collaborated on a webinar exploring the negative impacts of orphanage volunteerism and healthier alternatives, a recording of which is available on the CFHI Webinars page.
Founded in 1992, CFHI (http://www.cfhi.org) is a non-governmental organization (NGO) operating at the grassroots level to provide transformative global health education experiences and community empowerment in underserved communities around the world. CFHI offers 30+ Global Health Education Programs designed to broaden students' perspectives about global health - as well as a variety of community health initiatives and projects - in developing countries including Bolivia, Ecuador, India, Argentina, Mexico, Uganda, South Africa, Ghana, Tanzania, and the Philippines. More than 8,000 students have participated in CFHI programs to date. CFHI has been granted Special Consultative Status with the Economic and Social Council of the United Nations (ECOSOC).