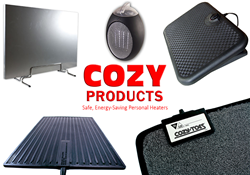 We look forward to working with our new partners to help expand our market share.
Chicago, IL (PRWEB) November 25, 2015
On November 23rd 2015 Cozy Products, a division of Bird-X Incorporated, purchased the assets of Tri Lite's personal heating products business. Cozy Products explains what this means for business moving forward.
The Tri Lite heater business includes low-wattage personal heaters that fit in well with the Cozy Products business model: to sell personal heaters that reduce energy consumption, are economical and keep people warm and comfortable.
"We are excited about this strategic acquisition as it will expand our distribution in some key market segments," stated Dennis Tilles, Company President. "We look forward to working with our new partners to help expand our market share."
Cozy Products continues to hold true to its mission statement, The Cozy Advantage: safe, economical, green, effective heating products. The products all require a fraction of the energy required by traditional space heaters and are highly efficient due to their intelligent placement of heat directly where it can do the most good: on feet and legs.
Cozy Products has decades of experience in manufacturing personal heaters, but acquired valuable technology and the UL listing of Tri Lite's Cozy Toes.
Tri Lite stated, "Divesting this business will enable us to put more focus on our core business." Cozy Products has already launched the Tri Lite products, available for sale on their website.
Cozy Products is a Chicago-based company that offers safe, economical, green, and effective personal heaters that utilize low wattage to conserve energy. Cozy heaters provide gentle warmth where it is needed most, keeping the entire body warm and cozy while enabling the user to dial down the thermostat.