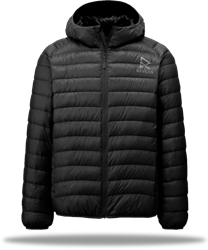 We're grateful for the support and we're thrilled that consumers have embraced our vision of replacing bulky and heavy jackets with slim-fitting jackets and hoodie
Provost, UT (PRWEB) November 24, 2015
Ravean, the heated smart jackets and vests, battery-free heated gloves, and heated hoodie line, has become the second most funded clothing item in crowdfunding history, raising more than $1.05-Million and counting on Kickstarter. The campaign continues until 12:50AM ET, Nov.30, 2015.
More than 5,000 consumers around the world have pledged to be the first to feel the warmth of the slim-fitting jackets that look as good as they work.
"We've created the world's first heated down jacket and thanks to its functionality and great looking lightweight design, people have been incredibly supportive of this revolutionary idea," said Jon Bybee creative director of Ravean. "We're grateful for the support and we're thrilled that consumers have embraced our vision of replacing bulky and heavy jackets with slim-fitting jackets and hoodies."
Ravean Jackets, which come with a built-in smartphone charger, solve the problem of bulky uncomfortable winter jackets with premium heated clothing that's different from anything on the market. Ravean's Kickstarter campaign is the beginning of a new era of smart climate-controlled winter apparel. It's an all-in-one solution that's perfect for unexpected temperature drops.
Ravean's performance has been validated by research at the world's leading heat testing facility. In warmth testing Ravean's C6 Heated Jacket, outperformed a top brand down jacket that is three times the weight and bulk of the slim-fitting Ravean.
The Ravean C6 Heated Jacket & Heated Glove system is engineered to keep users comfortable in temperatures ranging from -4°F up to 55°F."
Ravean's key features include:

High, medium, and low settings allow for a totally personalized level of warmth
Patented carbon heating system is literally indestructible
Heated glove connector system allows the jackets to heat to your fingertips
Lightweight 12V battery beats competitors - at just half a pound it delivers 6 hrs of heat
The same battery can recharge your portable devices up to six times over
Each model is 100% washable, 100% waterproof, and backed by a 5 year warranty.
Ravean early bird specials start at $89 on Kickstarter. Heated jacket & heated glove combos start at $159. The Kickstarter campaign runs until 12:50AM ET, Nov.30, 2015.
About Ravean
Let's be real here for a moment; we're not the first people to come up with the idea of heated jackets or heated gloves. We're just the first ones to do it right. By doing it right we mean our jackets look good, they're durable, they're affordable and they integrate our technology seamlessly and unobtrusively. Finally, there's a heated jacket you can wear with equal comfort and style from the mountains to the office without missing a beat. Sure it's been tried before but other solutions have been pricey, ugly and the technology was problematic. Ravean has addressed and solved each of these issues to present jackets you can wear anywhere, that are as stylish and durable as they are warm and cozy.