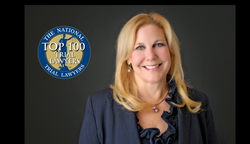 These scams are becoming increasingly sophisticated and prey on unsuspecting Michigan drivers. - Dani Liblang
Birmingham, MI (PRWEB) December 01, 2015
Top Trail Lawyer Dani Liblang is praising Secretary of State Ruth Johnson's recent initiative to crackdown on auto insurance scams. The anti-fraud task force known as the Fighting Auto Insurance Rip-offs (FAIR) includes the Michigan State Police, prosecutors, state officials and insurance industry leaders have joined together to fight the surge in fake and fraudulent auto insurance.
"Lansing has taken a very important step towards protecting the public," states Liblang. "The Secretary of State's office has recently disclosed that they have uncovered significant evidence of fake and fraudulent auto insurance policies. These scams are becoming increasingly sophisticated and prey on unsuspecting Michigan drivers."
In a one-day audit of paper insurance cards submitted July 31 at Secretary of State office's across Michigan, found that 16.1 percent of the certificates were invalid. Fake certificates were received in more than half of the state's 83 counties. Metro Detroit had the largest number of fakes by volume, with 215 invalid insurance cards, or one-quarter of all paper cards submitted. Oakland County had 70 fakes submitted, or 16 percent, and Macomb had 81 fakes, or 16.3 percent.
Michigan Secretary of State's branch offices will be posting new warning signs to remind customers that use of an invalid certificate is a crime punishable by fines and jail time. The task force plan on making procedural changes, increasing investigation of fraud and potentially sponsoring new legislation to combat the issue.
One of the scams that has been on the rise is automobile dealers selling fake insurance certificates. "Under Michigan law, dealers are not allowed to sell no-fault automobile insurance," Liblang explains. "Unfortunately, many consumers are unaware of this and unwittingly become victims of unscrupulous salespeople who offer to arrange the insurance and simply pocket the premium money. When an accident occurs, the person finds that they have no insurance and are left covering the losses on their own and even facing possible criminal charges. To avoid premium theft, drivers should work only with trusted insurance agents and always verify their coverage independently with the carrier."
About the Liblang Law Firm, PC
Dani K. Liblang is the founder of the Liblang Law Firm, PC, consumer and lemon law firm serving clients from throughout Michigan and the Detroit metropolitan area. She was recently named to the Top 100 Trial Lawyers of Michigan.
The Liblang Law Firm continues to represent plaintiffs in personal injury, product liability, finance fraud, and toxic tort, as well as a variety of consumer and employment law issues. Additionally, the firm is extremely active, well versed and certified in Alternative Dispute Resolution (ADR), which allows clients to pursue non-traditional litigation methods such as arbitration, mediation, mini-trials and private judging.
The firm is located at 346 Park Street, Suite 200 in Birmingham, MI.
Visit their website at: http://www.lemonlawlawyers.com/about.html
For more information contact Melinda Kollins
248 722-5408
melinda.kollins(at)gmail(dot)com