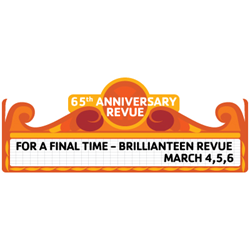 Evanston, IL (PRWEB) November 25, 2015
Brillianteen, McGaw YMCA's student-produced musical show, will pay homage to six decades of music, friendships, and learning in its 65th Anniversary Brillianteen Revue, scheduled for March 4-6, 2016. Auditions for this final production will be held Dec. 5-6.
For 65 years, Brillianteen has been a treasured tradition for numerous families in the Evanston community. Over the decades, hundereds of high school juniors and seniors have gained the experience of live theatre. Youth Showboard Volunteers lead the complete production of the show, from rehearsals to design and performance. In the YMCA's spirit of inclusion, every student who auditions is invited to participate.
Five years ago, McGaw YMCA reviewed all of its programs to ensure that our focus and resources were devoted to the YMCA mission: Supporting youth development, healthy living, and social responsibility. At that time, McGaw YMCA renewed its commitment to supporting youth development for underserved populations via programs that have the most significant impact.
Accordingly, some programs were phased out. Because Brillianteen was such a beloved program, McGaw YMCA conducted surveys and focus groups in an attempt to re-design Brillianteen to better meet our mission. The program continued for another five years, but efforts to diversify Brillianteen and align it more closely with our mission have not been sufficiently effective.
However, McGaw YMCA is committed to honoring the Brillianteen legacy by establishing an annual scholarship to be awarded to two Evanston Township High School seniors interested in the arts. Those who wish to donate to the scholarship fund will have an opportunity during the Brillianteen production.
As the curtain closes on Brillianteen, McGaw YMCA will be forever grateful for its dedicated coordinators, alumni, volunteers, parents, and donors alike. The Brillianteen legacy will continue as McGaw YMCA continues to offer a range of experiences where Evanston's youth can learn teamwork, grow as leaders, and explore their creativity.
For more information on auditions for the 65th Anniversary Brillianteen Revue, or about volunteer opportunities for adults, contact Brillianteen's Coordinator, Kelsey Kovacevich, at kelseyk(at)mcgawymca.org, or visit our website.
For general questions or concerns, please contact Sue Sowle, Senior Director, Senior Director of Youth and Resident Services, at sues(at)mcgawymca.org or by calling 847-475-7400, ext. 295.
###
The McGaw YMCA (http://www.mcgawymca.org) is a cause-driven, charitable organization that seeks to strengthen community with a focus on youth development, healthy living, and social responsibility. Our programs for children and teens support them academically, emotionally, and socially. Through these programs, the McGaw YMCA has positively impacted the Evanston community for nearly 130 years.