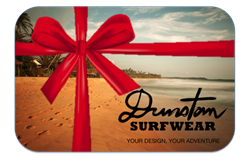 We are thrilled to finally be offering the gift of custom for everybody and every body!
Orange County, CA (PRWEB) November 25, 2015
Just in time for a family vacation - give the gift of Dunstan Surfwear this Holiday Season with a Dunstan Surfwear Gift Card! With an offering of great styles, prints, and fabrics - the Dunstan Gift Card is a fail-proof way for loved ones to get their hands on the most comfortable boardshorts available. Eliminate the hassle of gifting boardies that may not be the perfect fit - as Dunstan's can be custom tailored for men, women and children of all shapes and sizes.
Available via http://www.dunstansurfwear.com, the gift card can be printed or emailed directly to the recipient with an option to send immediately or a scheduled send-out for a convenient date. With a variety of templates to choose from, personalize the gift card with a tropical picture along with a personal message.
Designing a custom short is simple and fun via the virtual boardshort tailor on the website's "Create" tab. The user is the designer with a recently refreshed variety of prints, fabrics, trims and styles to choose from. Dunstan Surfwear caters to the user's preference, any pair can be hand-measured to have as much coverage and comfort as needed. Hand sewn and made with care in the heart of Sri Lanka, Dunstan Surfwear offers free worldwide shipping, delivered and packaged to perfection, on one's doorstep within 14 days. Should they not fit correctly, Dunstan also offers hassle-free alterations for 100% customer satisfaction.
Facebook - @DunstanSurfwear
Instagram - @dunstansurfwear
Pinterest - @dunstansurfwear
About Dunstan Surfwear
Dunstan Surfwear was founded by one of the country's surfing pioneers, Dunstan Wickramasekara, in the small beach town of Hikkaduwa, Sri Lanka. Dunstan Surfwear has combined surf style with an eco-friendly opportunity to repurpose Pan-Asian excess fabric of the many clothing manufacturers in the region. The result is a completely unique pair of boardshorts reflecting the individual spirit of every customer. Surfing is a method of expression, and that individuality should extend to boardshorts too.
###