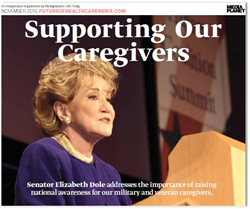 No new chemical entities for treatment of Alzheimer's disease have been approved by the FDA in over a decade.
(PRWEB) November 27, 2015
The print component of "Supporting Our Caregivers" is distributed within the November 27th edition of USA Today in Atlanta, Dallas, New York, Minneapolis, South Florida, with a circulation of approximately 250,000 copies and an estimated readership of 750,000. The digital component is distributed nationally, through a vast social media strategy and across a network of top news sites and partner media outlets. To explore the digital version of the campaign,click here.
With both Family Caregivers Awareness Month and Alzheimer's Awareness Month this month, Mediaplanet is partnering with Alzheimer's expert Dr. Lawrence Friedhoff, among others, to foster wider awareness about Alzheimer's disease and the work being done to develop new treatments.
Dr. Friedhoff has a 30-year track record of identifying promising drug candidates and managing all phases of their development. He led the development and approval of Aricept® (donepezil), the most widely used drug for the treatment of Alzheimer's disease. He is currently leading the development of RVT-101, a potential new treatment for dementia. RVT-101 has already been studied in 13 clinical trials, and is currently is currently being studied in MINDSET, a confirmatory phase 3 study testing RVT-101 in mild-to-moderate Alzheimer's disease patients on a stable background of donepezil.
"No new chemical entities for treatment of Alzheimer's disease have been approved by the FDA in over a decade. RVT-101 is the first drug I've seen in years where there's significant evidence of improvement on patients' cognition and ability to perform daily activities," said Dr. Friedhoff.
The MINDSET study is currently enrolling patients. For more information, visit http://www.alzheimersglobalstudy.com.
About Mediaplanet
Mediaplanet is the leading independent publisher of content-marketing campaigns covering a variety of topics and industries. We turn consumer interest into action by providing readers with motivational editorial, pairing it with relevant advertisers and distributing it within top newspapers and online platforms around the world.
Press Contact:
Chad Bernstein
Chad(dot)Bernstein(at)mediaplanet(dot)com
646-755-7950