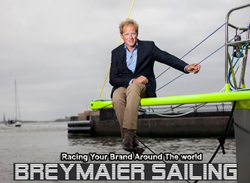 The explosive growth and value of international ocean sailing is well documented in Europe and the media and sponsorship value is easily seen in such high profile programs as Hugo Boss, Lending Club and Maserati
(PRWEB) November 30, 2015
Renowned sailor Ryan Breymaier, in conjunction with the International Mono-Hull Open Class Association (IMOCA) and Ocean Masters World Championships, has announced a new marketing and sponsorship opportunity that will be dedicated to an American based company seeking international reach. The 15 month commitment will commence in early 2016 and include exposure at three key IMOCA events to include the 'Transat', the single-handed race from England to New York in May, the 'New York- Les Sables' race to France in July and finishes with the 'Vendee Globe Race' starting in November.
The Vendee Globe takes place once every four years and is considered the pinnacle in all sailing, requiring solo skippers to race around the globe non-stop with no outside assistance.
To understand the unique platform that this program represents, over 5,000 people climbed Mount Everest, 500 have traveled into outer space but less than 100 people have sailed single-handed, non-stop around the world. The media value generated from the previous Vendee Globe included 816 international television hours, 52,647 print articles and feature over 4,000 accredited media professionals spanning multiple countries. The 2012 Vendee Globe race accumulated more media credits than the Tour de France bicycle race in France.
"The explosive growth and value of international ocean sailing is well documented in Europe and the media and sponsorship value is easily seen in such high profile programs as Hugo Boss, Lending Club and Maserati," comments Brian Mulhall, former CEO and sailing program sponsor. 'This program offers a US based company the opportunity to generate international media exposure through worldwide events that use New York City as a key stepping point."
"I look forward to providing this sponsorship program to a partner that understands the complex challenges of the international business community and how they mirror the rigorous demands of offshore ocean racing. I am committed to providing a versatile platform that reinforces and complements their corporate vision." Comments record breaking sailor Ryan Breymaier. "In joining my other partners such as Maui Jim Sunglasses and Switlik Survival Equipment, potential sponsors will find themselves at the forefront of an international racing circuit; ideally placed to reach a very desirable demographic."
About Ryan Breymaier
Ryan is America's premier shorthanded sailor. He has over 15 years professional experience competing in offshore racing around the world. In 2008 he moved to France to pursue the highest levels of short-handed ocean racing, notably in the IMOCA class.
Ryan's accomplishments include sailing double handed nonstop around the world in 2011 and has sailed across the Atlantic 14 times. In 2013 he broke the speed sailing record from New York to San Francisco, in 2014 he won the IMOCA double-handed New York-Barcelona transatlantic race and in 2015 he set no fewer than three Guinness World Record Ocean Passages as skipper onboard 105ft maxi-trimaran 'Lending Club 2'..
About IMOCA Ocean Racing
Founded in 1991 and recognized by ISAF (International Sailing Federation) since 1998, IMOCA is the association that administers the worlds leading class of 60-foot ocean racing mono-hulls (18.28 meters). With more than thirty skippers signed up, its championship includes two round the world races, four transatlantic races and several shorter ocean races. The IMOCA class aims to make ocean racing more international while celebrating the ideals of competition, innovation, human adventure and perseverance.