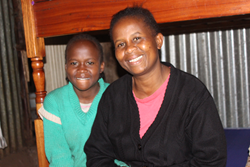 It makes me feel important and valued as a person when I listen to his messages of solidarity with the poor people in the world.
Kansas City, Kan. (PRWEB) November 26, 2015
A mother whose children are part of Unbound's sponsorship program will be among those in attendance for the papal Mass on Nov. 27. During Pope Francis' visit to Africa he will bring a message of hope, peace and interfaith harmony to Kenyans.
While millions of Americans will celebrate the Thanksgiving holiday weekend by feasting and shopping, Pope Francis will celebrate Mass with the poor in a slum community in Kenya.
His visit to the Kangemi slum on the outskirts of Nairobi gives hope to thousands of children and families served by Unbound, an international humanitarian organization.
"As a Catholic I am so excited and, as a resident of Kangemi slum, am really humbled that the pope chose my village to visit," said Salome, the mother of children sponsored through Unbound.
On Friday, Nov. 27, the eyes of the world will be on her parish church of St. Joseph the Worker, spiritual home to Kangemi's large Catholic population, as well as many families in the Unbound program.
For Jacinta Wanjiku, a social worker in Unbound's Nairobi program and member of the parish, the pope's visit is a powerful statement of solidarity with those disregarded by the rest of society.
"I think his visit is very significant," she said. "He has chosen to visit a church that is located in the heart of a slum. He will be amongst the poor in the community. I am hoping that this act of meekness and humility will touch the rich who often look down at those living in the slum."
Salome, a long-time resident of Kangemi and a member of the St. Joseph community, appreciates the significance of Pope Francis' visit. The mother of three children, two of whom are sponsored through Unbound, is one of the fortunate few selected to attend the papal Mass.
"It makes me feel important and valued as a person when I listen to his messages of solidarity with the poor people in the world," she said.
From the time Francis was first elected pope in 2013, it was clear that solidarity with the poor would be a central theme of his papacy. It is a theme that has resonated strongly within the Unbound community.
Unbound's Nairobi program coordinator Peter Ndungo says that the work of Unbound is an important expression of the values underlying Francis' message.
"Poverty breeds despair, disappointment and loneliness," Ndungo said. "The fact that Unbound, through its diverse programs, invests in individual ideas and initiatives that change lives, echoes [the pope's] message of hope to people living in poverty.
"People living in poverty need a message of hope that says that, irrespective of their situation, they matter and that choices they make in life make a difference in this world."
Wanjiku agrees.
"My role models in life are and have always been Mother Teresa and the pope," she said. "We should be ready to be that person who gives hope to the less fortunate, makes them realize that they have great potential in them, and that they can make it no matter what or where they come from.
"As we prepare for the papal visit, everyone, whether Catholic or not, should find it in their hearts to borrow a leaf from the pope and have love for everyone, regardless of their circumstances and situation in life. Love should be our language as Kenyans."
About Unbound
Unbound is the largest nonprofit organization in Kansas with more than $120 million in annual revenue. Unbound works side by side with people of diverse faiths in 20 countries, bringing people together to challenge poverty in new and innovative ways.
Unbound distributes direct aid as quickly and efficiently as possible to people who need it. 92.5 percent of Unbound's expenses go toward program support.
#