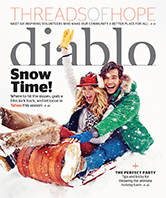 Through the generous gift of their time and passion, these individuals are the 'threads' that strengthen our community—Barney Fonzi, President of Diablo Publications
Walnut Creek, CA (PRWEB) November 25, 2015
Diablo magazine is honoring six outstanding volunteers at its annual Threads of Hope Awards. Laura Graham and Riley Glasson, from 1Closet; David Smith, from the Rossmoor Fund; Carol Weyland Conner, from White Pony Express; Gaby Ghorbani, from Pledge to Humanity. Elaine Taylor will also be honored at the event and presented with the Steven J. Rivera Visionary Award, for establishing The Taylor Family Foundation. All recipients will be honored for their contributions to the East Bay community at a reception on December 3 at the Orinda Theatre. In addition to the awards event, the honorees and their organizations are featured in the December issue of Diablo magazine.
For the past 21 years, Diablo has solicited nominations of exceptional volunteers who give their time to charitable causes in the East Bay. A panel of judges, representing businesses and philanthropic organizations, chose the honorees based on each nominee's length of service, hands-on involvement, and impact on the community.
The 2015 panel of judges includes: Jessica Aguirre, weeknight co-anchor of NBC Bay Area News at 6 p.m. and 11 p.m., and host of Class Action, a weekly segment on public education in California; Mario Alioto, executive vice president of business operations, San Francisco Giants; Mark Flower, senior vice president and regional director for Wells Fargo Private Bank; Steve Lesher, vice president, Dean and Margaret Lesher Foundation, and external relations manager, Shell Oil Company; Jo A. S. Loss, executive director at the Volunteer Center of the East Bay; and Carole Wynstra, president of the Walnut Creek Library Foundation and past president of Diablo Theatre Company.
"Our Threads of Hope Awards honorees embody the true spirit of the season," states Barney Fonzi, President of Diablo Publications. "Through the generous gift of their time and passion, these individuals are the 'threads' that strengthen our community, making it a better place for all of us. We're delighted that we can highlight all their accomplishments in the December issue of Diablo magazine and at our awards ceremony"
To read the full article, visit diablomag.com/December-2015/2015-Threads-of-Hope-Awards-Honorees/. For more information on attendance or the honorees' participation in the 2015 Threads of Hope, contact general(at)maildiablo.com, or RSVP (based on available space) at http://diablomag.com/threadsrsvp. If you are interested in nominating someone for the 2016 Threads of Hope Awards, visit our nomination page.
About Diablo Magazine
Covering topics ranging from travel, culture, and personalities to entertainment, recreation, and food, Diablo magazine is written specifically for the San Francisco East Bay market—from Central Contra Costa, into the Oakland and Berkeley hills, and throughout the Tri-Valley. With locally driven editorial content, beautiful photography, and resource listings, Diablo is a unique celebration of the San Francisco East Bay. Published since 1979, Diablo has been recognized for its editorial and design with numerous awards, including previous Maggie Awards for Best Overall Publication and Best Regional and State Magazine in the consumer category.
ABOUT DIABLO PUBLICATIONS
For 35 years, Diablo Publications, an employee-owned company, has been creating award-winning publications, including Diablo magazine, Napa Sonoma magazine, Diablo Weddings, the Diablo City Book Series, Diablo Arts, Concierge East Bay, and the Tri-Valley California Visitors Guide. Diablo Publications' custom content division, Diablo Custom Publishing (DCP), provides complete print and online marketing communications and customer publishing services for corporate clients nationwide. For more information, visit diablopublications.com, dcpubs.com, diablomag.com, napasonomamag.com or diabloweddings.com.