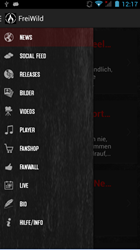 (PRWEB) November 27, 2015
The browser add-on and toolbar agency, BestToolBars has launched a brand new custom development service for the music industry. It has initiated an applications development service for music groups, kicking off its new service with a number of apps and browser toolbars already in progress with the sector.
Valery Kuznetsov — COO of BestToolBars said, "BestToolBars is delighted to confirm that are developing applications for musical groups. This was a natural progression for us giving our work in other industries and is a tremendous milestone for our brand. We have already completed a number of toolbars and apps for groups and music industry professionals and look forwarded to expanding on this success with our dedicated new solution."
Known for its work with a number of global brands including several Fortune 500 corporations, BestToolBars has already rolled out a series of apps for Android, Windows, iPhone and iPad since moving into the music arena. One of its first projects has been to create a browser toolbar for Frei.Wild – one of the most successful, irreverent new groups to come out of Germany in recent years.
The four-piece called on BestToolBars to create a toolbar for the band, giving fans access to a range of exclusive material. The community tool gives followers the chance to accompany the band with fresh content delivered directly to their browser and a news info tool, delivering the latest Frei.Wild news to the toolbar. The BestToolBars solution also includes a radio player, powerful search functionality, social media tabs, weather app and mail checker.
As part of the Frei.Wild project, the BestToolBars development team also created a branded app for the group, giving news and release information for Windows users. Smart TV, Android, iPad and iPhone versions of the app have also been developed and are available for fans to download via the App Store and Google Play.
To find out more about BestToolBars visit http://besttoolbars.net
Contact:
Alina Koroleva
Communication manager
Skype: alina.koroleva97
E-mail: a.koroleva(at)besttoolbars(dot)net
About BestToolBars:
BestToolBarsis a company well known for creating browser toolbars and add-ons. It has worked with an array of global brands, from start-ups to high-profile Fortune 500 corporations including Amazon, Skype, IBM, DHL, TNT and Intel. More than 7000 companies currently use solutions created on the BestToolBars platform. Its product line includes:
Toolbar Studio: IDE for designing toolbars for Internet Explorer and Firefox
Add-ons Framework: Framework for building add-ons for Internet Explorer, Firefox, Chrome, Safari, and Opera
AppsGeyser: The fastest growing DIY platform for building mobile apps
DeskAlerts: One-way instant desktop alert notification system
Apps4CashBack: Develop business solutions for CashBack, Coupons, Charity