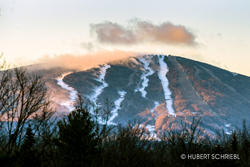 STRATTON MOUNTAIN, VT. (PRWEB) November 28, 2015
Winter has begun in southern Vermont, as Stratton Mountain opened today for its 55th winter season of skiing and riding. Snowmakers have worked around the clock making and grooming snow for over a week preparing 5 trails for snow enthusiasts to take their first top-to-bottom turns of the season.
In line at 8:45AM awaiting the go-ahead to begin his 2015-16 winter season, North Adams, MA native, Jim MacDonald, was as eager as a child on Christmas morning. "There's nothing quite like the first day of the season. It surprises me every year how excited I still get, even in my 43rd season of skiing. … I'm so excited to be back at Stratton," MacDonald said.
Stratton snow makers fired up over 250 snow guns on November 22 when temperatures dipped as low as 12 degrees and ran at full capacity for over 24 hours straight. Taking advantage of the cold temperatures in the forecast, snowmakers are focusing on pumping snow on up to 17 trails in the coming days. For updated trail and weather report, stay tuned to the Stratton snow report.
"We're looking forward to an exciting season with the re-designed Base Lodge, renewed energy and emphasis on cuisine, and impressive music lineup. And of course, the Mountain Operations team continues to deliver to the outstanding skiing and riding experience everyone has come to expect from Stratton," said Stratton President and COO Bill Nupp.
The 2015-16 season features a newly renovated Base Lode, where 4,000 square feet and 350 seats have been added, as well as a completely re-designed Grizzly's Bar and Restaurant. Stratton's event calendar features over 110 musical performances, snowboard competitions, fireworks and family fun activities. For a full event calendar, visit stratton.com/events.