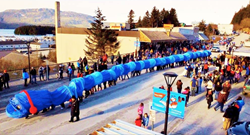 Cordova, AK (PRWEB) December 01, 2015
The Cordova Iceworm Festival has a new committee. The Cordova Iceworm festival has been a volunteer community event since 1961. The volunteer spirit is strong within this tight knit town. The value of community and service to the community is passed on from one generation to the next. The latest demonstration of that value is the new Cordova Iceworm Festival Committee. After many years of tireless service one generation has passed the privilege to serve on to a new generation. Barbra Beedle, Darrel Olsen, Toni Bocci and Penny Oswalt have passed the baton to Ria Beedle, Kelsey Appleton, Jessica Arasmith and Shannon Evans to carry on the vision of the Iceworm. This new generation is not alone in this venture, as Darrel Olsen will remain active with the group as Iceworm Historian.
This group of young women is not new to the festival nor are they new to community service. All have demonstrated leadership abilities in the past that have lead them to be the new force behind the festival. All have volunteered in years past and managed elements of the Cordova Iceworm Festival previously. They now have the opportunity to steer the festival in new and exciting directions, keeping traditional elements of the festival and bringing back old favorite elements that have been absent for many years. Of course there will be a parade and sporting events, community meals and friendly competitions. This year two old favorites will return to the delight of new generations of Iceworm's – the paper airplane toss and the food fair will make a comeback!
The Cordova Iceworm Festival is a fun-filled week-long event put on by the entire community. It is the participation of all segments of town that make it successful and fun for all. The committee is looking for partner businesses and volunteers willing to give of their time and share their enthusiasm for a great mid winter festival and fill out the festival schedule Cordova style. To lend a hand or to add your event to the Iceworm schedule contact Ria Beedle or Kelsey Appleton at icewormfestival(at)gmail.com. This year's festival theme is "Northern Nights".
The Cordova Iceworm Festival is an independent 501c3 non-profit supported entirely by volunteers and community contributions.
Follow on Facebook https://www.facebook.com/cordovaicewormfestival/
###