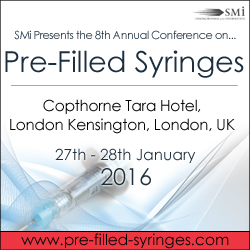 Pre-Filled Syringes 2016 features over 100 selected senior pre-filled syringes experts from leading PFS markets, including Austria, Belgium, Finland, France, Germany, Japan, Switzerland, UK and USA
London, UK (PRWEB UK) 30 November 2015
SMi Group's premium 8th annual Pre-Filled Syringes Conference and Exhibition returns to London next year. Taking place on the 27th and 28th of January 2016, Pre-Filled Syringes 2016 features over 100 selected senior pre-filled syringes experts from leading PFS markets, including Austria, Belgium, Finland, France, Germany, Japan, Switzerland, UK and USA. Event attendees will gather to discuss solutions to accelerate PFS development and technology advancements, as well as how a more patient-centric designed PFS will enhance usability.
A full agenda breakdown and further information on the extensive number of presentations that will take place at PFS 2016 can be accessed at http://www.pre-filled-syringes.com/prweb
Event speakers 2016 include top decision makers from GSK R&D, Sanofi R&D, Amgen, MHRA, F.Hoffmann-La Roche Ltd, Novartis Pharma AG, Barts Health Pharmaceuticals, Allergan and many more.
New Speaker announcement: Terumo Europe have confirmed their speaker: William Dierick, Director Technology Development, will be presenting on Day Two of the conference on "COP Polymer-Based Pre-Filled Syringes and the Merits for Sensitive Therapeutic Proteins".
As well as an exclusive line up of speakers and presentations, the 2016 event programme also offers two interactive half-day pre-conference workshops where delegates can enhance their knowledge of the PFS market even further. The two workshops offered are: "Pre-Filled Syringes: Development, Packaging and Regulatory Considerations" (led by Horst Koller, CEO, KH Packaging Consulting GmbH) and "Bridging the Gap - From Formulation to PFS Device Engineering" (led by Jean-Rene Authelin, Global Head, Pharmaceutical Engineering, Sanofi R&D).
For further information on the workshops and the hosts, please visit at http://www.pre-filled-syringes.com/prweb
Confirmed attendees include Directors, VPs, Chiefs, Heads and Principals from Aptar Pharma, Shire, Abbvie Deutschland GmbH & Co. KG, Sandoz, MedImmune, S3 Process Ltd, Medex, Diurnal Ltd and many more.
New Sponsor announcement: teamtechnik and 3P Innovation have confirmed their participation at Pre-Filled Syringes 2016.
Pre-Filled Syringes 2016 is proud to be sponsored by AAF International, BD, Medical Device Usability Mitsubishi Gas Chemical, Nemera, Nipro, Noxilizer, Nypro Healthcare, Owen Mumford, Steris, Terumo and West Pharmaceutical Services.
In the run up to PFS 2016 SMi caught up with ther expert speakers from Noxilizer Europe, Medical Device Usability and STERIS FINN-AQUA. The interviews are available for download at the download center on the event website. Go to http://www.pre-filled-syringes.com/prweb
Delegate enquiries: Contact Fateja Begum on +44 (0) 207 827 6184 or e-mail fbegum(at)smi-online(dot)co.uk
Sponsorship enquiries: Contact Alia Malick on +44 (0) 207 827 6168 or e-mail amalick(at)smi-online(dot)co.uk
8th annual Pre-Filled Syringes Conference
27th - 28th January 2016
London, UK
http://www.pre-filled-syringes.com/prweb
Contact e-mail: jrotar(at)smi-online(dot)co.uk