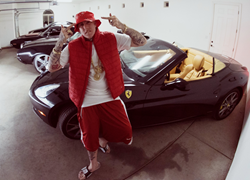 Hollywood, CA (PRWEB) November 30, 2015
In a new video released last week, Bay Area rapper Bobo Norco has finally revealed his rumored 2015 Ferrari California convertible. The video appeared on Norco's YouTube channel where he opens in his garage on a hover board. He then brings his cameraman along with him to show the new Rari and also his '69 Cutlass Convertible, 1970 Challenger, and Mercedes CLS550.
Other cars Bobo has been seen with are a 2015 BMW i8 and he was spotted in Hollywood during the BET Awards in driving a Mercedes CLS550 custom cut limousine.
Bobo never speaks in the video but we do hear his controversial single "Different Sets" playing in the background. It's also unclear as to why the video was made but most speculate it is to draw some attention before the release of his new album with confirmed features from Wiz Khalifa, 2 Chainz, Young Jeezy, Future, T.I., Gucci Mane, and E-40.
The video has been creating a big buzz but Norco has yet to speak about it. Check out the video here https://www.youtube.com/watch?v=DWbAOSsVW6M