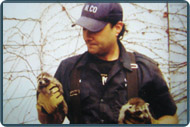 If you come into contact with wildlife infected with the virus, you should call for emergency services immediately.
(PRWEB) December 02, 2015
Alco NJ Animal and Pest Control warns of the dangers associated when coming into contact with animals carrying the rabies virus. According to an article by Patch.com, released November 14, 2015 and CBS News, wild animals suffering from rabies have been appearing on main roads and backyards in increased numbers. Bats, skunks, and groundhogs have tested positive for the disease after making contact with backyard pets and residents within their home. One such resident is currently undergoing physician consulting after exposure.
Rabies, a virus present in saliva that affects animals and humans alike, can be transmitted only by a bite or open wound. The virus provokes aggressive behavior, causing an infected animal to bite at imaginary or real objects when excited. "Bats, raccoons, skunks, groundhogs, foxes, cats, and dogs represent 95 percent of animals diagnosed with rabies in the United States" officials said in a wildlife control advisory.
Residents have been issued pamphlets to explain the importance of prevention and wildlife control, detailing how they can best avoid contact with animals exposed to the virus. CBS News reports in an article dated November 10, 2015 that Freeholder Carmen Rodriguez, liaison to the Camden County Health Department, reassured residents by stating "Although rabies is a serious illness, it can be prevented by early treatment." He continued, "If you have been bitten or scratched by a wild animal it is important that you seek immediate medical attention."
Alco NJ Animal & Pest Control, a licensed wildlife control company in New Jersey, has removed many animals infected with rabies from properties throughout their years of service. Their professional, humane methods ensure safety for the caught wild animal and homeowners. With special training for these emergency situations Alco NJ Animal and Pest Control removes animals from homes, with our without the disease, and protects against future unwanted visits.
New Jersey residents can protect themselves against exposure to the virus by following directions presented within the distributed pamphlet and below.
Be mindful of pets while in the backyard. Because of incidents where rabid skunks and other animals have found their way into yards, it is good practice to keep an eye on pets while outside. If residents notice an animal moving towards a pet with aggressive intent, bring them inside immediately and call a professional wildlife control company like Alco NJ Animal & Pest Control.
Keep up-to-date with a pet's rabies vaccinations. If they have become exposed to another animal with rabies, pet owners should exercise caution by wearing gloves when attempting to keep fresh saliva from entering the wound.
When an animal appears on a property exhibiting symptoms of rabies, residents should call a professional wildlife control company such as Alco NJ Animal & Pest Control. Likewise, an animal inside a home can be removed using humane methods by Alco NJ Animal & Pest Control and reintroduced into the wild – if they are free from the virus.
Since 1995, Alco NJ Animal & Pest Control has removed many animals from homes and business, with or without the rabies virus. To find out more about their wildlife control company and current promotions, call the experts at Alco NJ Animal & Pest Control today at (973) 540-9944.