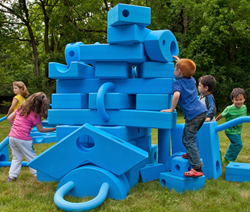 It has warmed our hearts thinking about the number of children that will benefit from the creative play this offer has enabled.
New York, NY (PRWEB) December 02, 2015
Imagination Playground, LLC, http://www.imaginationplayground.com, creators of the breakthrough play space concept that encourages child-directed, unstructured free play, announced that over 100 schools have taken advantage so far of the unprecedented offer to bring their Big Blue Block playgrounds to the children they serve. This offer was in response to hundreds of schools that wanted to employ the play power of Imagination Playground, but were not able to do so due to lack of funding.
Early in the year, Imagination Playground announced that their 2015 goals were to get 2 million more children, 4 million more parents, and 6 million more teachers playing. To Imagination Playground this means helping children, ages 2 to 9, become more involved in purposeful, child-directed play – and adults to become more aware of and engaged in the developmental benefits of play.
Over the course of this year, Imagination Playground was contacted by hundreds of schools inquiring about how they could find support to bring the block sets to their schools. A little over a week ago, Dave Krishock, President & CEO of Imagination Playground, decided it was time for his company to do more – to help these schools more.
Once the offer had been communicated, over 100 schools and organizations had taken advantage of the offer in the first ten days. The help came in the form of Imagination Playground offering an unprecedented discount on its price – as well as advice and help in the areas of school and community fundraising.
"It has warmed our hearts thinking about the number of children that will benefit from the creative play this offer has enabled. Our entire team has heard from teachers, principals, directors, and parents that are so excited to greet their children when returning from the holiday break—we are happy to help!" shared Krishock.
"We knew that with just a little more help, these schools would find a way to bring the blue block play to their playgrounds, and that the ensuing benefits of learning through play would begin," he concluded.
Dayna Brown from Evergreen Elementary School ECAP in Lakewood, Washington was so excited about bringing the Imagination Playground to her school that she said, "I've been working so hard to bring the amazing Imagination Playground to my school – this really helped us to make it happen!"
Mary Vaughn from Weslaco ISD Migrant Department ordered add-on blocks to the set used daily in her school. "We would never be able to add on to our Imagination Playground set without this offer. It will allow us to have more children building at the same time—we are excitedly anxious to get our additional blocks!" she shared.
And even from afar, organizations around the world are taking advantage of the offer. Trisha from PlayAfrica.org said, "We are so excited to bring an Imagination Playground to Johannesburg for the first time! Thank you Imagination Playground for all your help in making this possible."
The offer is good through December 20th only and is not available through the online Block Shop.
To learn more about Imagination Playground, visit http://www.imaginationplayground.com/index.html.
To contact Imagination Playground with questions about the program, reach out to contactus(at)imaginationplayground(dot)com or 1-678-604-7466.
About Imagination Playground, LLC
Imagination Playground is a breakthrough play space concept developed to encourage child-directed, creative free play. The kind of play that experts say is critical to children's intellectual, social, physical and emotional development. Created by architect and designer David Rockwell and the Rockwell Group, Imagination Playground enables children to play, dream, build and explore endless possibilities. Imagination Playground finds its home in daycare centers, kindergartens, elementary schools, children's museums—and science, nature, discovery centers, camps, community centers, children's hospitals, hotels, public parks and more—in North America and over 60 countries overseas. For more information, visit http://www.imaginationplayground.com