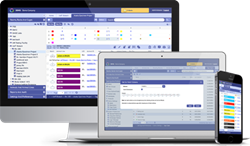 ezColony Cloud makes better information management 'push button' simple.
Frederick, MD (PRWEB) December 01, 2015
RURO, Inc., a leading LIMS, and other sample management solutions provider, announces that its best selling system laboratory animal colony management software solution, ezColony®, is now available as a subscription-based, cloud-hosted software service. Utilize ezColony® Cloud today, without investing in on-site IT resources.

Many organizations are moving to cloud-hosting for LIMS and other lab software services
The complexity of laboratory animal colony management requires better tools than many labs can afford or have IT resources to support
ezColony® Cloud is a COTS Transgenic Animal Colony Management Software solution that serves an important niche in the scientific research community
Transgenic Animal Colonies produce a volume of critical data, which is often inefficiently tracked in software tools designed for other purposes. Complex breeding data, specialized datasets, and the need to prevent reporting errors from propagating throughout lineage records, among other issues, necessitate purpose-built information management solutions. ezColony® is RURO's commercial-off-the-shelf animal colony management software that provides data management power to animal labs. ezColony® Cloud solves these data challenges and installation can be completed in a single day!
RURO customers opt for Cloud deployment, rather than onsite server installation, for several reasons but many point to a common lack of on-site IT capacity. In large organizations IT support is often spread thin and can involve intensive procedural effort to obtain services from. This presents a variety of challenges laboratories must overcome in order to improve their sample management software tools. The solution involves Cloud deployment, which circumvents, largely or entirely, dependence on company IT resources. Conversely, for smaller laboratories, startups, and autonomous laboratory businesses, the cloud can be an easy way to gain powerful software support without the need for any IT staffing or hardware investment.
"Transgenic and Knockout Research Labs have important needs for user-friendly, quick, and intuitive animal colony software management," says Vlad Lebedev, RURO's Chief Executive Officer. "Many labs do not want to invest months to complete adoption of substantial software packages. ezColony® Cloud makes better information management 'push button' simple."
RURO has carefully crafted its cloud-deployed services. Its hosting partners have twenty data centers worldwide, ensuring that ezColony® Cloud customers will always have minimal latency due to "nearby" hosting sites. Deployment across multiple regions is offered, affording high availability, and RURO guarantees 99.99% uptime of ezColony®.
Existing ezColony® customers may contact RURO for information about moving their solution to the Cloud. For more information on pricing and features in each edition of ezColony® Cloud, visit http://www.ezcolony.com or call 888-881-RURO (7876).
About RURO, Inc.
Founded in 2006, RURO specializes in Laboratory Information Management Solutions. RURO's Limfinity is the central data management solution in many of the world's leading Translational Science programs and Biobanks. RURO is Laboratory Information Bliss. Visit RURO at http://www.ruro.com for more information.
# # #