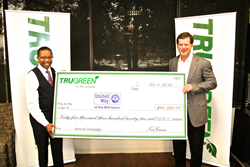 "We have amazing employees at TruGreen, and this recent fundraising campaign for the United Way once again proves it," said TruGreen CEO David Alexander.
Memphis,TN (PRWEB) December 01, 2015
In celebration of #GivingTuesday, TruGreen today announced it has donated more than $95,000 to the United Way as part of its annual fundraising campaign, with most of the contributions coming directly from employees. In three weeks, TruGreen employees donated more than $63,000, exceeding the $60,000 goal. The company matched $0.50 for every dollar donated, creating a grand total of more than $95,000 offered to the United Way in 2015.
"We have amazing employees at TruGreen and this recent fundraising campaign for the United Way once again proves it," said TruGreen CEO David Alexander. "As an organization, we have created and fostered a culture of giving back, and our employees demonstrate that commitment by making positive impacts in the communities where they live and work. Every year, I'm thankful for the generosity of our team. This year we raised an impressive amount of funds in a few short weeks, which will directly support the good work the United Way is doing around the country."
This is TruGreen's second United Way Campaign, which has raised a total of more than $180,000 to support United Way's mission of helping others in times of need. The United Way Campaign is one piece in the company's overall giving efforts which include Service Days where employees do hands-on projects in the local community and the popular Lawn Stars program where TruGreen awards high-performing branches with a $2,000 donation towards any non-profit of their choice.
In a special #GivingTuesday celebration, Reverend Dr. Kenneth S. Robinson of United Way Mid-South will be accepting a check from TruGreen at the company's corporate headquarters in Memphis, Tenn. Employees will come together on a global day of giving that harnesses the collective power of individuals, communities and organizations to encourage philanthropy and to celebrate generosity worldwide.
"Partnerships with companies like TruGreen, which rallies incredible individual employee support, make an enormous impact in how the United Way is able to help communities in times of need," said Dr. Kenneth Robinson, President and CEO, United Way of the Mid-South. "TruGreen has exceeded fundraising goals year after year and we're looking forward to what we can continue to achieve together."
About TruGreen
Memphis, Tenn.-based TruGreen is the nation's largest lawn care company, serving more than 1.9 million residential and commercial customers across the United States with lawn, tree and shrub care. TruGreen believes more life should be lived outside and is committed to providing a beautiful lawn to serve as the foundation for outside experiences and lifelong memories. As the leader in the professional lawn care industry, TruGreen helps define responsible lawn care practices, conducts industry-leading education and training for our people, pioneers new application technologies and educates our customers on proper mowing and wise-use watering techniques. Today, there are approximately 210 TruGreen lawn care branches in the United States and Canada, plus about 35 franchise locations. Go to http://www.TruGreen.com or http://www.facebook.com/TruGreen for more information about TruGreen.
About #GivingTuesday
#GivingTuesday is a movement to celebrate and provide incentives to give—the 2015 iteration will be held on December 1, 2015. This effort harnesses the collective power of a unique blend of partners—nonprofits, businesses and corporations as well as families and individuals—to transform how people think about, talk about and participate in the giving season. #GivingTuesday inspires people to take collaborative action to improve their local communities, give back in better, smarter ways to the charities and causes they celebrate and help create a better world. #GivingTuesday harnesses the power of social media to create a global moment dedicated to giving around the world. To learn more about #GivingTuesday participants and activities or to join the celebration of giving, please visit:
Website: http://www.givingtuesday.org
Facebook: http://www.facebook.com/GivingTuesday
Twitter: twitter.com/GivingTues