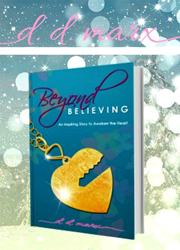 Nothing is impossible, when you believe
(PRWEB) December 08, 2015
Written as a 'love letter to friendship', Beyond Believing warms winter readers' hearts with its sweet message, laugh out loud moments, romantic twists, and reminder that there's no such thing as "coincidence."
When Olivia gets news of her best friend Dan's fatal car accident, her life is shattered. Consumed with grief and struggling to find any meaning or purpose to life, she trudges along with a gaping void in her heart. Finally, when her frustration reaches its peak, Olivia decides to put her trust in the depth of friendship the two of them shared. That trust finally allows him to breakthrough to her, and Dan begins to guide Olivia through the twists and turns of her life, leading to something new and entirely unexpected.
When Olivia exposes a gigantic internal scandal at work, her career implodes. With no job and nowhere to turn, she escapes to Palm Springs for the sympathy and care of her beloved cousin, Garrett. However, with only weeks left before the opening of his newest store, "Gin and Tonic," Garrett isn't quite the comfort Olivia had expected. She yet again tries to find her way, and in the process meets someone who begins to fill that void in her heart. She's never before experienced a love like this; it heals her soul and rekindles her spirit – and just may have been the design of her dearly departed friend all along.
Whether looking for a stocking stuffer for a loved one, a gift exchange with gals, or a story to accompany some hot cocoa, Beyond Believing acts as the perfect holiday companion for anyone looking to smile this season!
Beyond Believing can be purchased at any of these fine retailers: Amazon.com, Barnes & Noble, and Reader's Legacy
About D.D. Marx:
D.D. Marx is a contemporary romantic fiction writer and blogger, as well as a lover of all things social. She is a graduate of the University of Dayton, as well as the Second City program in Chicago, where she currently resides. A proud aunt and self-described hopeless romantic, Marx has always had a knack for humorous and engaging storytelling. Her pen name is a dedication to her beloved friend Dan, who continues to guide and inspire her in her daily life. For more ways to connect with D.D. check out ddmarx(dot)com and be sure to check out her media page where you can find her latest and greatest interviews/events!
Media inquiries: Shannon Lutz (702)912-2405 Shannon(at)NextCenturyPublishing(dot)com