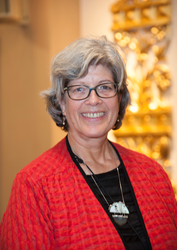 DOROT's reputation is stellar, and I am delighted to be part of this amazing team.
New York, New York (PRWEB) December 03, 2015
DOROT is pleased to welcome Patricia Cipora Harte as the new Director of DOROT Westchester. "Cippi" brings over 30 years of professional experience as a licensed LMSW to DOROT, and will use that knowledge and expertise to expand DOROT's reach in Westchester County.
"I am impressed by the high standards that DOROT has for its programs and volunteers. DOROT's reputation is stellar, and I am delighted to be part of this amazing team," said Cippi.
Having been a resident of Westchester for the past ten years, Cippi has gained a unique understanding of the local community's structure and needs.
"I am in the process of gathering information and learning about what exists for older adults in Westchester. I'm researching what gaps and perceived needs there are for older adults, and working to identify locations where older adults who are somewhat isolated and solitary are living."
Cippi will work closely with DOROT's social workers in Westchester to make DOROT more visible by marketing successful DOROT programs and working with volunteers to raise awareness about the available programming.
"Her appointment is a sign of DOROT's commitment to increase the reach of its programming," said Mark Meridy, the Executive Director of DOROT. "Increased demand for the services we provide in Westchester County led us to look for an addition to our team who would uphold the vision and mission of DOROT, and we were lucky to have found someone with Cippi's unique skillset to fill this role."
"I'm confident that going forward, Cippi will play a key role in providing high quality programming and services to our clients in Westchester County."
DOROT launched its Westchester program in 2004 to help alleviate social isolation among older adults with food deliveries, weekly volunteer visits, intergenerational programs, teleconference classes, and support groups.