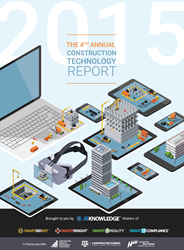 I read every single page of this report every year because it gives me real statistics on how our technology stacks up against like-sized companies.
College Station, TX (PRWEB) December 08, 2015
"This year's survey shows progressive construction companies looking into drones, virtual reality, 3D scanning and more. It also reveals that, although in a minority, some companies are actually investing in R&D departments and have turned their technology departments into revenue generators," asserts James Benham, JBKnowledge, Inc. CEO, in the foreword of the 2015 Construction Technology Report. Compiled from a survey of over 2,000 building professionals, the report is produced annually and has become a valued resource for industry professionals wanting more insight on where they stand among their peers and competitors.
Published in partnership with the Construction Financial Management Association, Texas A&M University's Construction Science Department and HCSS Construction Software, the survey has grown from 452 responses to over 2,000 responses, producing relevant statistics from construction companies of all sizes and specialties. The 2015 Construction Technology Report covers six main topics: IT Department Budgeting and Staffing; Cloud Security Policies and Procedures; Mobile Technology; Software Integrations; Software in Use; and Emerging Technology.
The survey highlighted that the majority of construction professionals do not know what their company's IT budget is, and those who do said their budget was less than 1% of corporate revenue. This number is significantly lower than cross-industry averages estimated to be between 3% and 5%. The report also shows that 20% of companies surveyed do not know if their company has cloud security policies and procedures in place. For those who do, the most widely used method for securing data is employee training.
"I read every single page of this report every year because it gives me real statistics on how our technology stacks up against like-sized companies. When we've made changes to our accounting software, or added something new like CRM [customer relationship management] in recent years, I've always looked back to the survey to see how we compare to others in the industry. I don't just read it once, I refer to it throughout the year," says Charlie Brawner of Tweet/Garot Mechanical, Inc.
Every year the Construction Technology Report verifies the top twenty construction mobile apps in use by survey participants, along with the operating system and devices used to run them. Most survey participants were likely to use a construction mobile app for field data collection and project management, while project scheduling and prequalification mobile apps are few and far between.
The emerging technologies section of this year's report provides valuable insight on the state of construction technology research and development. The likelihood of having a department dedicated to research and development increased as the size of the company increased. A company with more than 1,000 employees or over $500 million in sales volume is more likely than not to have a research and development department. Drones and 3D scanners are the most likely technologies to be seen on current job sites of companies utilizing emerging technology.
These stats are just a glimpse of the current and emerging technology insights published in the 2015 report. The #ConstructionTechReport can be downloaded, at no charge, at jbknowledge.com/report.
About JBKnowledge, Inc
JBKnowledge, Inc. specializes in technology solutions for the construction and insurance industries, including enterprise applications and databases, electronic data interchange, strategy consulting, mobile solutions, and web development. Makers of the SmartBidNet, SmartCompliance, SmartInsight and SmartReality cloud, mobile and wearable solutions, JBKnowledge is headquartered in Bryan/College Station, TX, and serves construction and insurance clients on an international basis. Learn more at jbknowledge.com